"Blank in the Head": The Internet Goes Wild Over a Rare Photo of Diego Maradona and Mike Tyson
Published 03/05/2023, 3:00 PM EST

Follow Us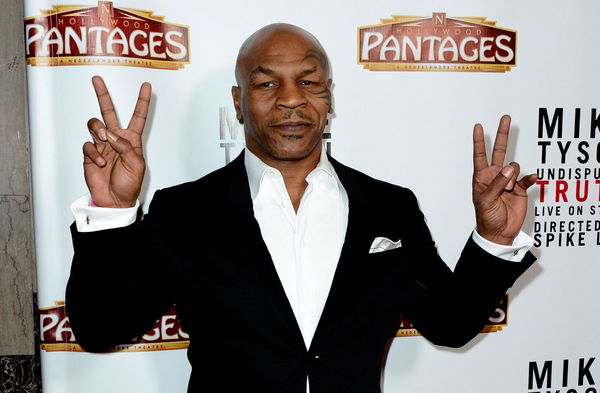 It's rare to see two legends from different sports together in one frame. But fans were lucky enough to get something that was even unthinkable for some. So, recently a rare old photo of the two legends has been going around on the Internet, and fans are loving every bit of it. Nobody expected to see the former heavyweight champion Mike Tyson and football legend Diego Maradona, together. But to a lot of people's surprise, it did happen, and that too on the home soil of Maradona.
So, in early 2005 Diego Maradona hosted a reality TV Show, 'La Noche del 10'. Now, this show did not stay on air for a long time, but nobody can deny that the guests who arrived at the show were quite elite. And among such unique invites for the show, 'The Baddest Mad on the Planet' also came to have a chat with 'El Pelusa'.
And this is where the rare photo is from, as Mike Tyson was gifted the Argentina Jersey specifically signed by Maradona himself. Now, this jersey became even more famous later in the year 2005 after Tyson's retirement.
ADVERTISEMENT
Article continues below this ad
This was when after allegedly physically assaulting a cameraman in Brazil, he showed up to the court wearing his gifted Argentina Jersey. Hence, it was said that Tyson did not show any respect to Brazilians.
Fans react to the forgotten picture of Mike Tyson and Diego Maradona
The photo was uploaded by Film Scenes on Facebook, and the picture is right from the moment when Tyson and Maradona were standing holding the Argentina Jersey. The fans got pretty excited watching the two of them together.

One fan, Dimitri Bakyono, simply wrote, "True Greats Legends⚽️🥊👍🏾"
Peter Purschke talked about how both of the legends possessed different abilities in their specific fields. He wrote, "Diego and Mike had talent, one in the fists, the other in the legs, but blank in the head"
One of the fans, Damaged Refugeez, said that the two in the picture are the greatest talents in history. They wrote, "2 of the biggest addict and legend in the history #respect"
ADVERTISEMENT
Article continues below this ad
Marshall Parker wrote, "That's nice Mike Tyson Catskill all the way it's still a champ"
Another fan, Bo Tauk, said that this is a great picture that they've seen in a while. As he commented, "The best photo"
Kazim Abdulfatai said that these two athletes are their idols. He wrote, "They're my idols".
ADVERTISEMENT
Article continues below this ad
Watch This Story: Mike Tyson Stuns with His "Conspiracy" Take on the Mysterious Mona Lisa
Well, it is evident from the reactions that the fans showered praise for both these legends, and are enamored by the impact that they have created in their respective fields.