Canelo Alvarez Poised to Achieve What Boxing Legends Floyd Mayweather and Manny Pacquiao Never Could
Published 03/19/2023, 5:30 AM EDT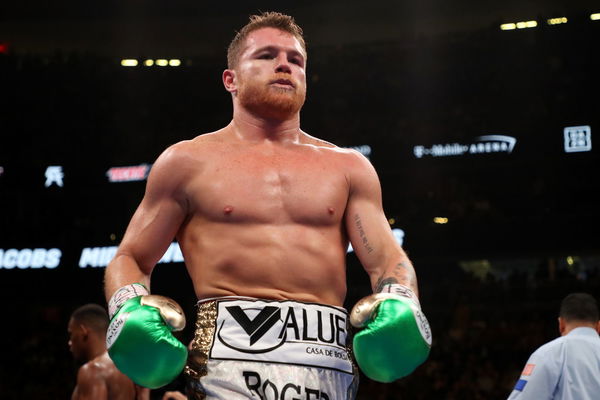 The most wholesome chapter in any story is when the hero comes back home to where he started. Homecoming in any narrative is always wholesome. Well, this is what Canelo Alvarez wants for his next fight against John Ryder. The fight is scheduled to be held at the birthplace of Alvarez, Guadalajara, Mexico. Now, this is something that many fighters haven't been able to achieve, but the fact that Alvarez wants to fight in front of his family and friends after a long span of 12 years, is as wholesome as any homecoming.
Canelo Alvarez is recently coming off a win in the last fight of the trilogy against Gennady Golovkin, but the fans want to see more. As Alvarez's abilities are in question after he lost unanimously against Dmitry Bivol after moving up in weight. Many fans are even criticizing him for his choice of opponent. And recently Alvarez clapped back at fans for saying he was fighting a "nobody".
Canelo Alvarez's thoughts on giving back to his fans
ADVERTISEMENT
Article continues below this ad
At the launch press conference of Canelo Alvarez and John Ryder, an ESNEWS reporter asked Alvarez about achieving such a feat that even other boxing legends like Floyd Mayweather Jr. and Manny Pacquiao couldn't achieve. For instance, Floyd Mayweather never fought in Grand Rapids, his birthplace while Pacquiao never took a fight to the Philippines for his fans.
But Canelo was able to pull some strings to make it happen. So the reporter asked 'Cinnamon' what does it mean to him after doing such a thing for his fans. Canelo Alvarez replied, "Oh it means everything, you know, for me. I feel proud about it, coming- I'm big on my career and giving this fight to my people, I'm very excited for that."
ADVERTISEMENT
Article continues below this ad
After this, Canelo Alvarez also talked about how many fighters love to have a big mouth but only a few of them can actually turn their words into a reality.
Canelo Alvarez is "fine" with the criticism
Alvarez was then asked about how other fighters usually criticize him in his every fight, but at the end of the day every fighter wants to share the ring with 'Cinnamon'.  Canelo Alvarez said, "I don't know brother. I'm fine with that." And then he talked about Ryder's statements. Notably, John Ryder had said that he will definitely beat Canelo in their upcoming fight.
ADVERTISEMENT
Article continues below this ad
Alvarez stated that every fighter he's ever fought says the same thing, so it's nothing new for him. Alvarez seems to be ready to face 'The Gorilla'. Are you excited about this homecoming match? Do you think Ryder can follow in the footsteps of Dmitry Bivol and Floyd Mayweather Jr.? Let us know in the comments section.
Watch This Story: Five Mind-Blowing Things About Canelo Alvarez's Multi-Million Dollar Mansion in Guadalajara
Edited By: Shibu Immanuel