"Can't Do It on Television": 34 Years Later, Mike Tyson Shares His Greatest Lesson From the Infamous Robin Givens Interview
Published 08/14/2022, 12:00 PM EDT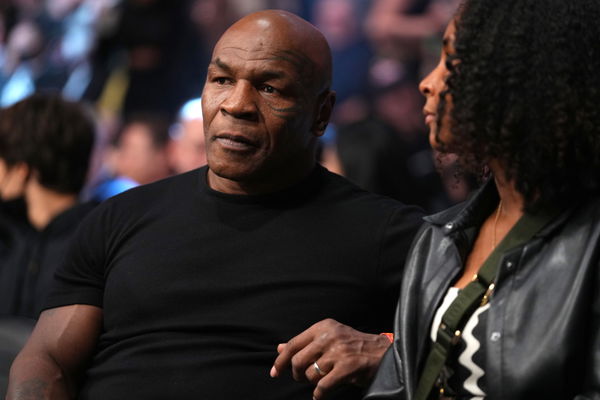 The 1988 Mike Tyson and Robin Givens interview with Barbara Walters was one of the hardest and agonizing interviews a Tyson fan would have ever watched. On live television, Walters disparaged Tyson for his lack of academic education compared to Givens, and Givens, with love and care (only on her lips), in an attempt to "deal with it", accused her then-husband Tyson of domestic abuse, and even called him an uncontrollable "maniac".
34 years later, that infamous and almost unbearable interview, Mike Tyson, in The Pivot Podcast, recently opened up about the lesson it taught him in life. Tyson still regrets being on television with Givens and therefore, just when his host brought up the 1988 controversial interview, Mike said the following: "Can't do it on television". 
ADVERTISEMENT
Article continues below this ad
Watch This Story – Everything To Know About $130 Million Conor McGregor vs. Floyd Mayweather 2.0 Fight
After the above mentioned remark, here is a look back at the 1988 Robin Givens and Mike Tyson interview.
Robin Givens speaks about Mike Tyson being intimidating, abusive, uncontrollable, and a manic
Despite acknowledging her love for Tyson who, according to Walters, was very different (at least on the surface) from Robin Givens, a college graduate, well-educated, and an actress, Givens, frequently dancing her eyebrows, made stinging comments on Mike. Although she spoke about being with Tyson, rather, how she was "meant to be" with Tyson "forever", a few minutes later, in a self-contradicting statement claimed it was unimaginable for her to think someone would actually "live with Mike Tyson".
ADVERTISEMENT
Article continues below this ad
She had said, "Extremely volatile temper. I think people see that about every three months. He's got a side to him that's scary. Michael is intimidating, to say the least. There's a time when he cannot control his temper and that's frightening. He gets out of control, throwing, screaming. He shakes, he pushes, he swings."
In addition, Robin Givens called herself an abused woman and even gave reasons why she could not leave the relationship with Mike. "Number one, you love the person. Number two, you get accustomed to being treated poorly."
But here's how Givens wanted people to look at Mike: "I don't want him to seem like a bad guy. He's not a bad guy. It happens for a reason, something we are now trying to control. There are times Michael is manic, and he's incredibly abusive. I cannot imagine that anyone would live with Mike Tyson."
ADVERTISEMENT
Article continues below this ad
While Givens made one calamitous comment about Tyson after another, the world champion sat there in a quiet. Even though it has been 34 years, Tyson regrets being on TV with his ex-wife, Robin Givens. What is your opinion on the case? In addition, what do you make of Tyson's recent remark?
Edited By: Ajinkya Aswale