Despite Branding Jake Paul vs. Tommy Fury as 'Great Marketing', Dave Portnoy Remains Brutally Honest About Potential Rematch in Front of Brother Logan Paul
Published 03/16/2023, 4:20 PM EDT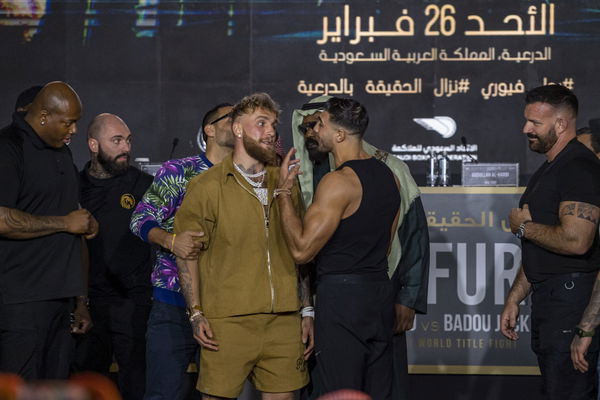 Jake Paul had been winning ever since he first picked up gloves against Ali Eson Gib in 2020. Since then, it has been fight after fight for him, trying to prove his legitimacy as a boxer. Even after defeating fighters like Tyron Woodley and Anderson Silva, public opinion never swayed toward him. The general consensus has been that he simply didn't have any 'real boxer' as an opponent and that his opponents have been old men who were retired legends from another sport. That's what made his fight against Tommy Fury so intriguing. People were finally able to have their curiosity satisfied on the question-how will Jake Paul fare against a real boxer?
Dave Portnoy, the founder of Barstool Sports, recently shared his honest opinion about the Paul and Fury fight. He also gave out his thoughts on the potential rematch between the duo while on Logan Paul's podcast, IMPAULSIVE. The edit of Portnoy talking about 'The Problem Child', was uploaded by the official IMPAULSIVE account on Twitter. In the caption, it read, "Dave Portnoy reacts to Jake Paul's loss to Tommy Fury: "I was STUNNED""
Dave Portnoy gives a brutally honest opinion on Jake Paul and Tommy Fury rematch.
ADVERTISEMENT
Article continues below this ad
The clip uploaded on Twitter was taken from a recent episode of IMPAULSIVE. In the video, Portnoy was first heard saying, "A big thing was his brother (Jake)'s fight" while pointing towards the elder paul. George was quick to point out that Portnoy's previous prediction for the fight was "kinda wrong". To which Portnoy turned to look at George, and he says with a slight shock- "Kinda wrong?"
Then the video cuts to a clip of Portnoy on Joe Rogan Experience, saying that he thinks Jake Paul would kill Tommy Fury. The clip then shows Dave Portnoy on IMPAULSIVE once again. Portnoy shared his thoughts on the fight. He said that initially, he thought they "built this up". He revealed that he thought, "Tommy Fury gets a payday then goes his way." Portnoy said that he was stunned that so many people, including him, were so invested in the fight.
Dave complimented the marketing done to build the hype for the fight. He stated that this was, "one of the great marketing business things we'll ever see". Portnoy went on further to reveal that he has no interest whatsoever in the rematch between the fighters. He revealed that, "Part of the allure was always, how good is Jake?"
Watch This Story: Everything to Know About Jake Paul's Status in WBC Cruiserweight Rankings
He claimed that now that it is clear that Jake is not at "that class" and that "he's never gonna be at that class". Dave Portnoy now feels no curiosity toward their rematch.
Portney's thoughts on Tommy before and after the fight
Earlier this year, just before the fight between Paul and Fury had taken place, Dave Portnoy shared his prediction about the fight. He posted a tweet claiming that Jake Paul will kill Tommy Fury. Before that, he was on the podcast with Joe Rogan, where he debated with the UFC commentator on whether "Tommy is a real boxer or not". Portnoy was pretty adamant in his claims that Fury was not as good as he claims to be.
ADVERTISEMENT
Article continues below this ad
 

View this post on Instagram

 
ADVERTISEMENT
Article continues below this ad
He claimed that the only reason Tommy Fury is talked about so much is because his last name has Fury in it. After the fight, Portnoy came out and retracted the claims he made about Fury. He said, "I can't ever talk about boxing ever again with a degree of integrity. My reputation is in shambles." He showed humility and accepted his mistake and corrected himself. It was very refreshing to see someone addressing their wrong opinion and being so upfront about it.
Edited By: Vineet Nandwana