'Disappointing' Tyson Fury vs. Oleksandr Usyk News Makes Fans Angry
Published 03/18/2023, 8:47 AM EDT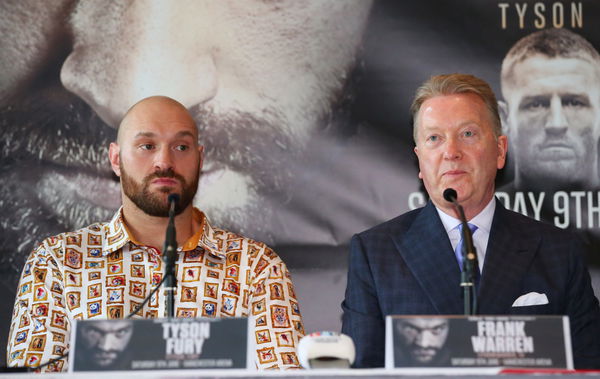 Every boxing fan wants to witness the most anticipated Heavyweight boxing fight – Tyson Fury vs Oleksandr Usyk, happen this year. It is one of the biggest fights as both fighters are undisputed world champions, so a lot of things are at stake when it comes to this fight. The winner of this bout would be getting prized with the unified Heavyweight Championship belt, for the first time after Lennox Lewis got it in 2000.
But recently, there have been some hurdles as Usyk's manager Egis Klimas has come out on Twitter where he wrote that the fight is becoming more and more difficult to arrange.
ADVERTISEMENT
Article continues below this ad
So Egis Klimas talked with SNAC.com, where he told them that if the fight does not happen on April 29th, it won't be happening any time sooner. Klimas said, "If the fight is going to happen, only April 29th. Or it's just going to be canceled, and we'll go with the mandatory."
Before this, Usyk's promoter, Alexander Krassyuk, made similar claims that the fight may not happen, and that the Oleksandr Usyk vs Tyson Fury is in jeopardy. So, Usyk's team has been calling out Tyson Fury on the fact that he's changing his requirements every other day and it's becoming difficult for them to accept everything.
But Tyson Fury hasn't shown any confusion regarding the fight, as he seemed quite sure on his social media that the fight is going to happen. Even his promoter, Frank Warren, showed no skepticism about the fight getting canceled. So this has left fans in a major conundrum as to whether the fight will be taking place or not.
Fans are not happy after the new revelation about the Fury vs Usyk fight
The fans are not sure about the fight anymore, all of them want it to happen. But the whole dilemma around the bout is unsettling for most of the fans. One fan named @___yasA stated that Usyk will be the one stepping out of the fight.
On the other hand, one fan named @rgfray1, supported Usyk and reminded everyone about his acceptance of the 70/30 split.
Usyk agreed to a 70-30 split, what more could that man do?

— RGF (@rgfray1) March 17, 2023
Another fan named @gizmo_277 supported Usyk and stated that Tyson Fury is trying to duck him.
Just like expected! Tyson fury is trying to do everything he can to duck usyk 🤦‍♂️

— ✨Gizmo✨ (@gizmo_277) March 17, 2023
Meanwhile @aTrustafarian contradicted the previous user and supported 'the Gypsy King'.
A fan named @FairAnalyst wrote that the fight doesn't seem to be happening on April 29 anymore.
@B47436630 wrote about how Frank Warren's authenticity would be at stake if the fight doesn't happen.
Frank Warren's credibility is finished if this collapses.

— Scott (@B47436630) March 17, 2023
Another fan named @NathOdell showed faith in Frank Warren.
He stated that Warren would never lie about a fight.
Na Frank said it's on. And Frank never lies.

— Nath (@NathOdell) March 17, 2023
ADVERTISEMENT
Article continues below this ad
Another user named @TapiaAdrian56 commented just one word to describe the whole situation.
ADVERTISEMENT
Article continues below this ad
So the fans are in dilemma whether the most anticipated Heavyweight boxing fight is happening or not. What are your thoughts about this situation? Would the fight take place? Let us know in the comments section below.
Watch This Story: Biggest Cash Grabs of Tyson Fury In and Out of the Boxing Ring
Edited By: Shibu Immanuel