"I Don't Think They're Getting Married Now": Boxing World Erupts as Man Doesn't Hold Back While Throwing Punches at Fiancée in What's Supposed to Be a Fun Sparring Session
Published 03/14/2023, 5:45 AM EDT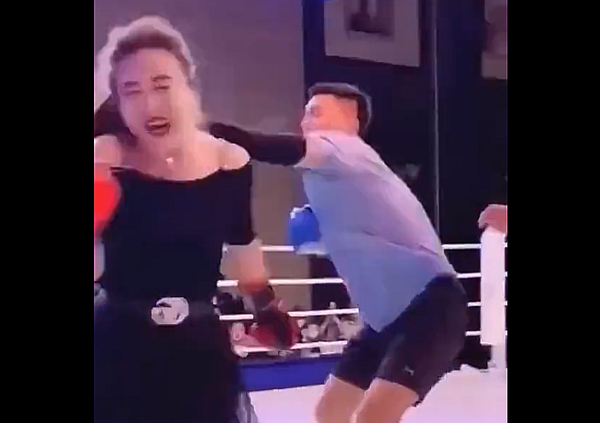 There are many different ways couples like to resolve their problems in their relationship. While some opt for therapy, others try communicating their feelings better. In a bizarre incident, a couple organized a fun sparring boxing match for the whole family to watch. Reportedly, it was planned to be a fun event between the partners as they tried to entertain each other's families.
Fight Haven uploaded the video of the couple on Twitter, but the sparring event did not really go well as they planned, because the man decided to channel his inner Mike Tyson.
At the beginning of the fight, the fiancée hops like a bunny when she approaches her man, but it all went to hell as the man got a little too serious. He started throwing devastating hooks at his fiancée's body, so she starts running into the corner.
ADVERTISEMENT
Article continues below this ad
But the man chases her to the corner and keeps on hitting her with brutal punches. All the while, the referee seemed to be from their family, as he was just smiling the whole time. Many felt that the man overdid himself a bit there.
The fans had all kinds of reactions to the video. Some of them felt that it wasn't right to punch your fiancée like that, while some fans took it on a lighter note, as they made some jokes about it. Recently another bizarre incident went viral, where a husband and wife tried to settle their beef in a boxing match.
Fans react to the man going hards on his fiancée
The fans were surprised to see a man being so serious in a boxing match against his to-be-soon wife. One of the fans, NotKrumpy, expressed his surprise and shock in his comment on the Twitter post.
Even the NFL Middle Linebacker, Boomer Mays, made a comment and asked about the issue this couple was facing.
One fan, Headlines_pod, stated that the couple must have a problematic history with each other as the man did not hold back with his punches.
Lmao. Man started goin in frfr. They must have a bumpy past😅

— Ty Miller👽📰 (@Headlines_pod) March 13, 2023
A Twitter user, UltraSWG, stated that the man seemed to be wanting to do this for some time now.
He been dreamin about this for awhile.

— Alex Buckner (@UltraSWG) March 13, 2023
Another fan, CouchNish, pointed out how the referee was smiling while the fiancée got obliterated.
Is the ref just smiling and laughing at this?!

— Couch Nish (@CouchNish) March 13, 2023
I_Am_Winter wrote that the chances are low of them getting married to each other, after this sparring session.
I don't think they're getting married now

— Dr King Winter (@I_Am_Winter) March 14, 2023
ADVERTISEMENT
Article continues below this ad
@Sh*tbullHater said the man showed no "control" in the video.
What a pathetic excuse of a man, showing no restraint or control whatsoever

— Sven (@ShitbullHater) March 13, 2023
ADVERTISEMENT
Article continues below this ad
Many fans thought that the man should've kept some control over his punches since it was not a real boxing match and was supposed to be a fun activity. But there's a chance he got caught in the moment and stopped thinking straight. What are your thoughts on this video? Let us know in the comments below.
Watch This Story: Everything to Know About Manny Pacquiao's Relationship With Wife Jinkee Pacquiao
Edited By: Shibu Immanuel