'I Made Up All Kinds of Lies That I Couldn't Come': Laila Ali's 'Scared' Husband, a Former NFL WR, Details His First Meet With Legend Muhammad Ali in a 2019 Interview
Published 09/30/2022, 3:45 PM EDT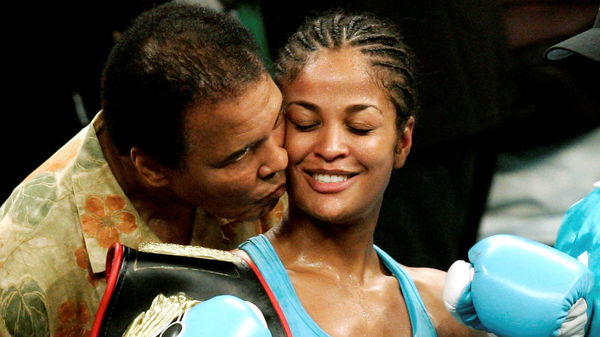 In 2019, in a conversation with Kristine Leahy, former NFL wide receiver Curtis Conway talked about meeting father-in-law Muhammad Ali for the first time. Laila Ali married Curtis Conway in 2007 the same year she retired from her sport. Although he could not precisely remember the time, Conway believed he met Muhammad Ali "shorter than eight, nine, or ten months" after he and Laila Ali started dating.
Even though meeting Muhammad Ali was a huge deal, Conway, at first, could not build up the courage to go and see him. According to Conway, seeing Ali as Laila Ali's "friend" was one thing, but seeing him as her boyfriend was just another.
ADVERTISEMENT
Article continues below this ad
Watch This Story – Deontay Wilder, Anthony Joshua Trilogy & Other Potential Opponents for Andy Ruiz Jr. Following Magnificent Victory Over Luiz Ortiz
Conway openly acknowledged that he was scared as he said the following:
"He [Muhammad Ali] didn't live here. But he was flying to town for different things. This is gonna sound crazy – If I was Laila's friend, I would have wanted to meet that man (like) right off the hook. She asked me twice; he was in town. 'Look, I'm going to see my dad. He's in town. I want you to come.' So, I made up all kinds of lies that I couldn't come. Because I'm scared."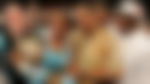 "It's one thing to meet him as a fan, but I'm meeting him as the boyfriend of his baby girl. I just envisioned he's not gonna be Muhammad Ali, he's gonna be [the] daddy. Daddy Muhammad Ali, not the boxer, not the man, that'll be the dad. I ain't trying to meet dad."
However, Muhammad Ali was welcoming to Curtis, and contrary to the latter's fears, Ali himself broke the ice.
When Muhammad Ali welcomed Curtis Conway
Curtis Conway described Laila Ali as the little version of Muhammad Ali. According to Conway, Laila introduced Curtis to Ali as casually as saying, "That's my man." Although Conway was nervous and shaking, Muhammad Ali made him feel like he knew the former all his life.
ADVERTISEMENT
Article continues below this ad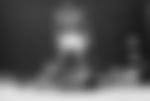 Conway added, saying, "It was so cool when I finally built up the courage to meet him. It was nothing like I expected. He immediately broke the ice. Immediately, you would have thought he knew me all my life. He started talking, and it was just a calmness that came over me." 
Conway revealed there was just something about Ali. The champ did not have to say much, but he made Conway feel he was welcomed at the Ali's.
ADVERTISEMENT
Article continues below this ad
What would you have felt were you in Conway's place and meeting Muhammad Ali? Share your thoughts in the comments below.
Edited By: Ajinkya Aswale