"I Stay Under Attack": Deontay Wilder's Hard-Hitting Tweet Sends Fans Into Frenzy
Published 01/30/2023, 6:30 AM EST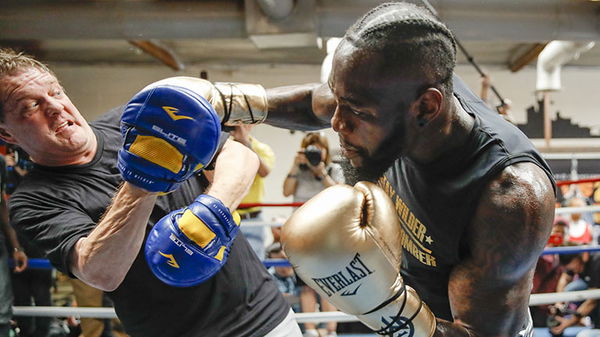 Deontay Wilder took nearly a year for a comeback. On October 15, 2021, Tyson Fury closed all the arguments that commenced on December 1, 2018. However, the first-round knockout of Finnish boxer Robert Helenius proves that the thirty-seven-year-old Wilder still has a lot to dent the fixtures in the heavyweight division.
Take, for instance, the much-anticipated fight against former heavyweight champion Andy Ruiz Jr. While talks were on for a possible battle against Briton Anthony Joshua, WBC rules made it obligatory for both Wilder and Ruiz Jr. to face each other in an eliminator, which is required to settle the questions on a challenger facing Tyson Fury.
'The Bronze Bomber,' makes it a point to share the latest updates and happenings with nearly a million followers. But fans often need to align with some of his messages.
ADVERTISEMENT
Article continues below this ad
Deontay Wilder greets his followers in a tweet
Today early morning he wrote, "I stay under attack because I have that light. I was chosen I didn't ask for this, but for much is given, much is required. I was hand selected in my mother's womb. Heavy is the head that wears the crown. "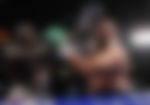 Boxing – Tyson Fury v Deontay Wilder – WBC Heavyweight Title – T-Mobile Arena, Las Vegas, Nevada, U.S. – October 9, 2021, Tyson Fury in action against Deontay Wilder REUTERS/Steve Marcus
And fans and followers had much to say
@nomore9to5pm told 'The Bronze Bomber' that he is unique and gifted. But he added that the former champion should keep his pride and humility intact.
Champ, you are awesome and blessed. But stay humble and continue to be proud.

— 100 x 35 (@nomore9to5pm) January 30, 2023
@blue_gazza, while asserting that Wilder deserves utmost admiration for being a fantastic boxer, also mentioned that Tyson Fury or Oleksandr Usyk would knock him out. Hence Wilder should raise his hands accordingly. Accept that they are superior.
Good fighter…respect….but lets face it Deontay…big Tyson or Alexander would beat u…they are in.a different class…u need to.hold.ur hands up.and say aye…they are better…..🇬🇧

— Gazza Blue (@blue_gazza) January 30, 2023
@BigFranknyc disagreed with Deontay Wilder's comments, "NOT TRUE… YOU GET WHAT YOU DESERVE… TYSON FURY TOUCHED YOU UP, AND YOU STARTED LYING… OWN THOSE L."
NOT TRUE… YOU GET WHAT YOU DESERVE… TYSON FURY TOUCHED YOU UP AND YOU STARTED LYING… OWN THOSE L

— Prince FRANK NITTI (@BigFranknyc) January 30, 2023
@giddsinc appreciated the former champion. He said that he liked the latter's courage and sense of adventure and found him quite remarkable. Of course, the only person he couldn't beat was Tyson Fury, but at least he never avoided anyone.
I think you are an amazing brave man and blessed with unbelievable talent. Personally I think you could beat everyone except @Tyson_Fury but at least you never ducked anyone champ 🙏🏻👊🏻

— Steve Gidds (@giddsinc) January 30, 2023
@crispino718 ran counter to The Bronze Bomber's views. He said that Wilder has no right to call himself king when he is not even the champion!
Can't claim to be King you are not even champion

— MAC (@crispino718) January 30, 2023
@RevusB mentioned matter-of-factly that Tyson Fury currently reigns as the world champion.
All that @DFuckyourpants wanted to share with Deontay Wilder was not to lose sight of the forest for the trees.
ADVERTISEMENT
Article continues below this ad
💯just stay focused and keep the main thing the main thing

— Dr.KnowItAll (@DFuckyourpants) January 30, 2023
To begin with, though, the news filtered that their battle would take place by May. However, WBC had other plans. Errol Spence Jr., Welterweight title holder, must defend his belt from former unified Welterweight champion Keith Thurman. And the fight has been allocated a May date. Hence per the latest reports, the Wilder – Ruiz Jr. fight should happen after May. 
ADVERTISEMENT
Article continues below this ad
Watch Out for More: Boxing News Round-Up (Jan 28, 2023): Jose Aldo's Debut Against Boxer Zambrano, Bob Arum on Fury vs. Usyk, Logan Paul's Take on Jake Paul vs. Tommy Fury, and More 
What is your take on Deontay Wilder's tweet? Do share your views and thoughts with us in the comments below.
Edited By: Shibu Immanuel