Jake Paul's Dream Crushed as Tommy Fury Takes Over: Boxing World Reacts to WBC's New Rankings
Published 03/16/2023, 9:30 AM EDT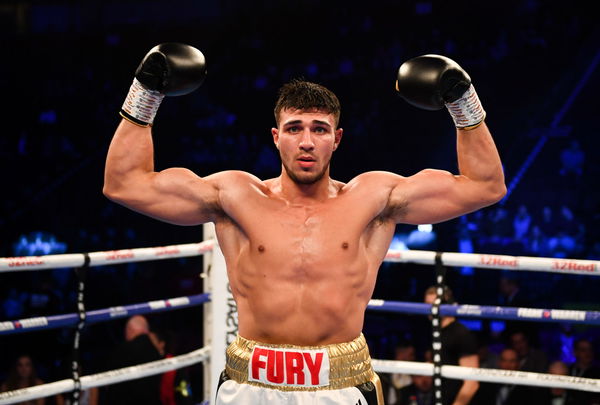 It seems like yesterday when one of the most highly anticipated fights finally took place in Saudi Arabia after a wait of more than two years. The fight took place in Diriyah Arena and WBC awarded Tommy Fury a unique 'Diriyah Belt' after winning the bout against Jake Paul. Fury and Paul went at each other for 8 whole rounds. Fury finally secured the win via a split decision in the end. Fans are waiting for the rematch between the duo. Paul, who lost the fight, was promised a ranking on WBC Cruiserweight if he triumphed over Fury.
Therefore, it is not surprising when the young Fury himself entered the list after handing a defeat to the 'Problem Child'. For this fight, WBC even made a custom championship belt for the winner, to intensify the importance of their ranking claim. In a recent tweet, boxing reporter Micheal Benson reported the news of the Englishman officially entering the rankings.
In the tweet, he shared, "Tommy Fury has now entered the WBC cruiserweight rankings at #39 following his win over Jake Paul. Viddal Riley has also entered at #40." This news has left Fury's fans celebrating and sharing their responses to the news on Twitter.
ADVERTISEMENT
Article continues below this ad
Fans' response to Tommy Fury receiving a rank on WBC
Tommy Fury was ranked #39 in the WBC cruiserweight rankings after defeating Jake Paul. Viddal Riley also made it to the rankings at #40. Fans had mixed reactions to the rankings.
One fan HonestBoxingFan expressed concern about Fury's ranking and felt that he should not be placed anywhere near Viddal Riley, who they felt would easily defeat him.
Please please don't put Tommy anywhere near Viddal Riley. Tommy isn't even a cruiserweight…

— BoxingFan✪ (@HonestBoxingFan) March 15, 2023
Another fan, Flip_3xx, was surprised that Fury ranked above Viddal.
How is Tommy fury lower than Viddal ?!

— Flip💪🏾 (@Flip_3xx) March 15, 2023
Another fan OuiCordonBleu was critical of the Englishman's inclusion in the ranking.
He stated that without his last name, he would not even be on the list.
Viddal would take Tommy to the cleaners let's be real. Without his last name he wouldn't be on the list

— Cordon Bleu? (@OuiCordonBleu) March 15, 2023
One fan, V_Cruzzin expressed disappointment in boxing and felt that the sport had become a joke.
This is how you know boxing is a joke.

— VCruzzin (@V_Cruzzin) March 15, 2023
XrHempy compared boxing to WWE, implying that it was becoming more about entertainment than sport.
On the other hand, one fan OnionRingsFroch felt that Fury would easily defeat Viddal.
Tommy Fury would smoke Journeyman Viddal Riley

— Carl Froch (Parody) (@OnionRingsFroch) March 15, 2023
ADVERTISEMENT
Article continues below this ad
Finally, one fan ellMCFC_ believed that defeating a boxing great like Jake Paul should have earned Fury a higher ranking, perhaps in the top 5.
Beating a boxing great like Paul he should be top 5

— Elliot (@ellMCFC_) March 15, 2023
ADVERTISEMENT
Article continues below this ad
Overall, now that Furyhas received his ranking on the cruiserweight list, he is going to have a lot of eyes on him. It will be interesting to see what he has to offer next. Meanwhile, do share your opinion on the situation.
Watch This Story: Tyson Fury, KSI, & Others Predict Jake Paul's Fate Against Tommy Fury