"My Head Is Spinning": Boy Getting Jumped After Hitting Back at Girlfriend After She Punches Him for Cheating Leaves Boxing Champion Dumbfound
Published 03/12/2023, 8:00 AM EDT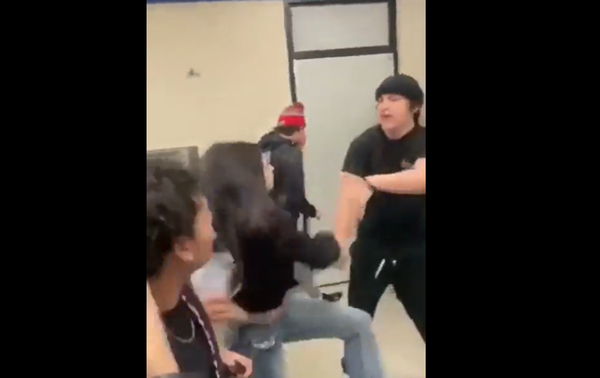 Boxing champion Sunny Edwards found himself in a dilemma because of a video that was posted by Fight Haven on Twitter. The caption of the post read, "Dude gets jumped after he hits his girlfriend back after she punched him for cheating on her... Justified?"
This question left the boxing champion dumbfounded as he retweeted the video on his account sharing his confusion. Edwards shared that the video had his head spinning and he couldn't decide who was right and who was wrong. His sentiments were shared by everyone who watched the video, and it sure begged the question – is it alright for any gender to hit the other for any reason?
What happened in the video?
ADVERTISEMENT
Article continues below this ad
In the video, a boy and a girl were seen talking to each other in what seemed to be a school hallway. There were students walking past, and some were also gathered in groups to witness this incident. Some of them were seen having their phones out and recording the situation unfolding. They were making jokes and laughing. The boy looked like he was explaining something to the girl, and she even gave a hollow laugh as if she heard something ridiculous. The video is quite similar to a recent video that went viral.
It was then that the girl threw a punch at the guy. After this, the guy hit her back too, but he stopped at just one, possibly because of the crowd. It was mayhem after that, the whole crowd jumped the guy.
The boy was seen fighting back at first, but he was soon overwhelmed by 3–4 guys and he fell down. Soon they were separated by others in the area and the video came to an end.
Boxing champion Sunny Edwards responds to the video
The video left a lot of questions in Edwards' mind. He could not decide who was wrong and who was right. In his caption, Edwards expressed his confusion about the situation, writing, "Everyone right & wrong at the same time in this vid. My head is spinning."
In the comments, Sunny Edwards gave his stance on the situation. He wrote that he thinks both parties were wrong. The boy was wrong for hitting the girl, and simultaneously the girl was wrong for hitting him. But her hitting him is understandable, as the guy was wrong for cheating on her.
And that's why he was wrong, she was wrong for hitting him, but right cos he cheated, the other lads were wrong for jumping him, but right for defending a woman. This is a real life masterpiece

— Sunny Edwards (@SunnyEdwards) March 10, 2023
ADVERTISEMENT
Article continues below this ad
He further wrote that the other boys were wrong for jumping him. Even though their intentions were to defend a woman, it doesn't make it right for them to gang up on the guy like that.
ADVERTISEMENT
Article continues below this ad
What is your take on the hallway brawl? Share your views and opinion with us in the comments below.
Watch This Story: KSI and Jake Paul Argue on Twitter
Edited By: Shibu Immanuel