"My Heart Goes Out to You": Fans Wish for Speedy Recovery as Boxer Goes Under the Knife After Suffering 'Horrible' Injury
Published 03/13/2023, 9:09 AM EDT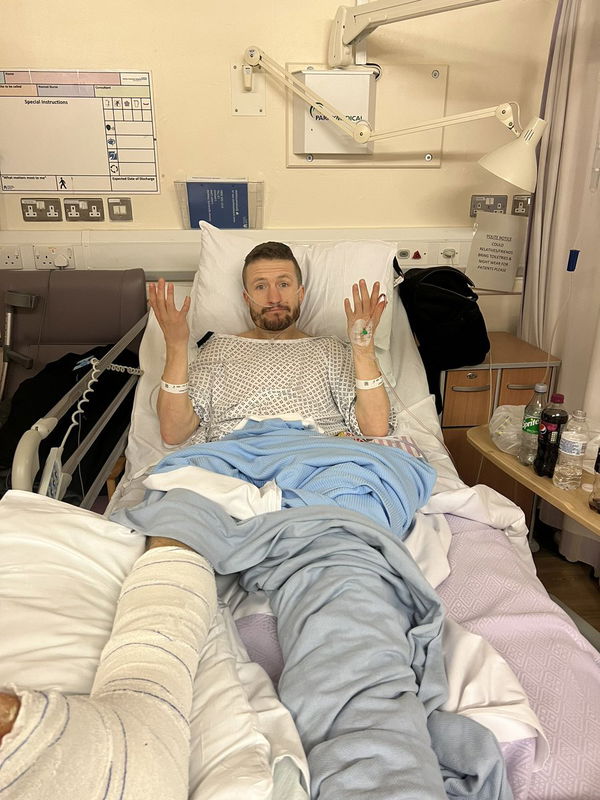 The current Super Lightweight WBA Continental Champion, Robbie Davies Jr., got injured badly during a fight against Darragh Foley. The bout happened this Saturday, at the Echo Arena in Liverpool, United Kingdom. It was the co-main event, in the card for Diego Pacheco and Jack Cullen. Davies Jr. was fighting his opponent in his hometown, so naturally, he had the urge to give his best in this fight. At the beginning of the fight, he landed a good punch from the right, but everything fell apart in the second round.
A single incident marked the downfall of Davies Jr. in the fight. In the second round, Foley dropped Robbie on the ground with a right hook, which resulted in the ankle injury of Davies Jr. But the orthodox boxer did not give up that easily, as he continued to fight despite his injury and safely walked out of the second round.
But he couldn't last long in the third round and got dropped for the second time at the hands of Foley, and this time Davies Jr's ankle suffered even more. Instantly the fight was called off and Foley came forth as the winner.
ADVERTISEMENT
Article continues below this ad
The fans wished Davies Jr., for his display of the warrior's mindset. He kept going forward regardless of his injury and did not give up. Instead, he pushed through his limits. The boxing world was impressed by such a fierce attitude from the UK boxer. Recently, he updated his fans about his injury on Twitter. It is worth mentioning that injuries are quite common in combat sports, recently even Adrien Broner shared a clip regarding his toe injury.
Fans pray for Robbie Davies Jr's quick recovery
Davies Jr. took to Twitter, to give his fans an update about his ankle injury and announced that he's undergone the surgery successfully, and currently is on the "road to recovery". The fans wished that he gets well soon and recovers quickly so that they can see him inside the ring again. Let's look at some comments on Twitter.
A Professional Darts Player, Chris Dobey, wished Davies Jr. a "speedy recovery".
A Twitter user, Ray Cox, asked Robbie to not get demoralized and to keep his spirits up.
My heart goes out to you there rob no luck at all keep chin up mate 👊🏻

— Ray Cox (@RayC3785) March 12, 2023
One of the fans, Damien Denny, had this to say about the condition of Davies Jr.
Horrible injury Robbie
Speedy recovery and good luck in the future

— Damien Denny (@DennyDamien) March 12, 2023
Boxingbonkers wish him a speedy recovery despite losing a bet.
I lost a big bet on you. I couldn't care less, as long as you recover well. All the best.

— Boxingbonkers (@Boxingbonkers1) March 12, 2023
One fan, Matthew McClarty, asked a question about Robbie's ankle. The fan was curious whether Robbie's ankle had some problem before the fight.
Out of curiosity, any thing happen before hand to weaken it or that literally the first instance. Mad luck.

— Matthew McClarty (@Mack_McClarty) March 12, 2023
@stuartdoherty8 praised the "class act" of Robbie Davies Jr.
Get well soon mate just watched it over and you were world Class after it, in that pain and still huge respect to the lad, no victim at all, just absolute class act. Respect!!!

— stuart doherty (@stuartdoherty8) March 12, 2023
ADVERTISEMENT
Article continues below this ad
@BoxingsShadow asked the UK boxer to take enough rest and not worry about the fight much, as there's always a chance of arranging a rematch.
Sickener. Wishing you a quick recovery! It was just warming up, rematches after something like that always make the fight much bigger also. Try and see the positives. What is meant to be and all that. Rest up.

— On the ropes (@BoxingsShadow) March 12, 2023
ADVERTISEMENT
Article continues below this ad
The boxing world came together to wish the best for Robbie Davies Jr. And the fans had nothing but respect for the boxer. What did you think about Robbie Davies Jr's injury and his 'class act'? Let us know in the comments section.
Watch This Story: Worst Eye Injuries in the history of boxing
Edited By: Shibu Immanuel