Oleksandr Usyk vs. Anthony Joshua 2: Date and Venue Revealed
Published 06/20/2022, 11:47 AM EDT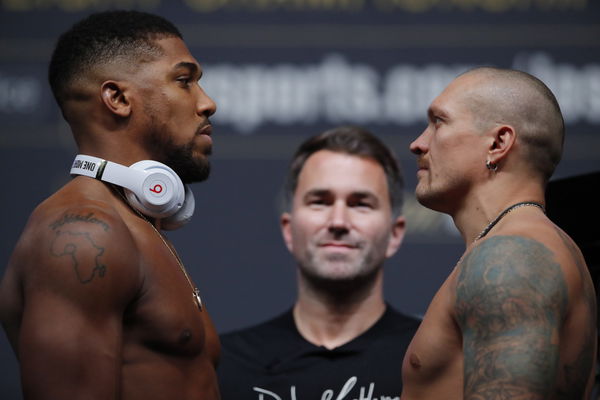 Oleksandr Usyk vs. Anthony Joshua 2 is now official and set. One of the biggest events in the heavyweight division of boxing is now only two months away from going down. The duo first met in September of last year, and Usyk dominated Joshua to win by UD. For Joshua, it is time for payback; it is time to avenge yet another loss in pro boxing. In one line, for everyone present, and those watching around the world, it is time to get ready to rumble.
ADVERTISEMENT
Article continues below this ad
Eleven months since the last fight, and here we go again. Anthony Joshua, with twenty-six bouts on his resume, is the former two-time unified world heavyweight champion in boxing.
ADVERTISEMENT
Article continues below this ad
Watch This Story –Mike Tyson Floyd Mayweather and Other Boxing Legends Who Appeared at WWE's WrestleMania
Only two individuals have been successful enough to dethrone Joshua and add the term 'former' beside the long-phrase 'unified world heavyweight champion.' One is Andy Ruiz Jr., a defeat Joshua avenged in their second meet, and the other is the unbeaten Ukrainian Oleksandr Usyk.
The date and venue for the rematch between Anthony Joshua and Oleksandr Usyk
Fans cannot wait for the rematch ever since the two last met in September 2021. According to ESPN's P4P divisional ranking, Anthony Joshua ranks 4, and Oleksandr Usyk 2. In the top ten, next to Tyson Fury and other than Joe Joyce, Usyk is the third fighter who has absolutely zero losses in pro boxing. It is the UD defeat to Usyk, the only unavenged loss that disturbs Joshua's otherwise perfect record since September 25.
The heavyweight title rematch between Oleksandr Usyk and Anthony Joshua is now set for Aug. 20 in Jeddah, Saudi Arabia, sources tell @MikeCoppinger.

The bout was originally targeted for July 23. pic.twitter.com/B83WfwWSGw

— ESPN Ringside (@ESPNRingside) June 16, 2022
According to sources, Oleksandr Usyk vs. Anthony Joshua 2 will take place on August 20 in Jeddah, Saudi Arabia. Prior to this second fight, let's have a look at some of the best moments from Joshua vs Usyk 1.
Some best moments from Joshua vs. Usyk 1
Joshua entered the bout weighing at 240lbs and with 10 title bouts on his name. As opposed to 'AJ', Usyk entered the fight weighing at 221 1/4lbs and with 7 title bouts to name. Both of them started with high guards, and Usyk landed the first shot of the night. It was a straight left hand. They both showed respect for each other's power; and with the cross hand protecting their chins, measured one another with jabs.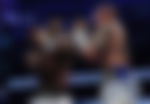 Usyk demonstrated great movements, considering his weight and division. Continuously, he stayed light on his toes and in the third round jumped right on 'AJ' with a cross, followed by a poking lead hand. In the ninth round, with a little over twenty seconds left, Joshua hit Usyk with a good right hand to the body and pushed the latter to the ropes. However, Usyk got 'AJ' in a clinch and the round ended with the referee breaking the duo.
ADVERTISEMENT
Article continues below this ad
Even in the upcoming rounds, Usyk remained light on his feet, moved up and down, and demonstrated his impressive stamina. It was his mobility, stance, and especially the distribution of space between the two feet that worked out so well. He kept the jab hand busy, moved in and out, and at times barely allowed Joshua to breathe. In the twelfth and final round, Usyk corned an exhausted 'AJ' and relentlessly poured in his shots.
ADVERTISEMENT
Article continues below this ad
Well, who do you think will seal the deal this time around? Do you believe 'AJ' can avenge this loss? Let us know in the comments.