Oscar De La Hoya Gives Crucial Advice to Jake Paul After Tommy Fury Loss: "Then It's a Clean Slate Once Again"
Published 03/16/2023, 3:15 PM EDT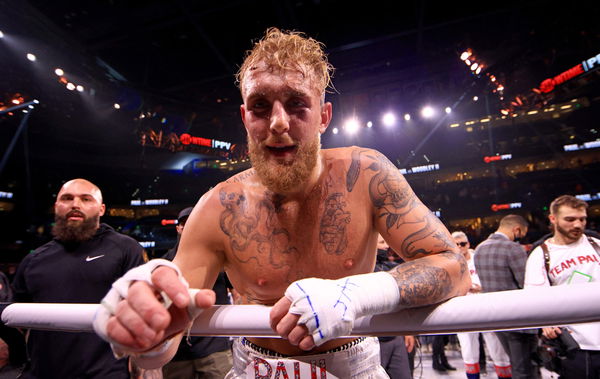 The internet went wild when Jake Paul was confronted by Floyd Mayweather outside the FTX Arena after the Miami Heat game on 9th March 2023. Paul was coming out of the stadium when he was jumped by Floyd Mayweather and approximately 20 men, and the whole situation became a big thing in the boxing community. As some were making fun of Paul for running like a coward others were blaming Floyd Mayweather for bringing multiple dudes over to scare one guy. This incident also caught the attention of the legendary promoter and former boxer, Oscar De La Hoya.
Well, not just De La Hoya, it also caught the attention of the former UFC fighter, Chael Sonnen. And Sonnen even made a Youtube video talking about the altercation between the two personalities.
Now, in a recent interview with FightHype, De La Hoya opened up about his views on the incident, and also gave important advice to Jake Paul as an experienced veteran in the game. De La Hoya also threw some light on the potential bout between Jake Paul and Floyd Mayweather in the future.
ADVERTISEMENT
Article continues below this ad
Moreover, the 'Golden Boy' also shared his opinion regarding a rematch between Jake Paul and Tommy Fury.
De La Hoya's advice to Jake Paul
Oscar De La Hoya Foundation just completed its eighth year since its establishment. So to celebrate the anniversary of his Foundation, he donated boxing equipment to five boxing gyms in South California.
And while he was at one of the boxing gyms, he stumbled upon the FightHype reporter who asked him his opinions on the altercation that happened between 'Money' and 'The Problem Child'. So Oscar De La Hoya laughed hysterically and nodded his head while saying that he believes that it was a build-up to something big. Both the fighters are cooking something interesting, according to 'The Golden Boy'.
But then, he also stated that Jake Paul shouldn't deviate from what is important, instead, he should focus on the problem at hand for now. He should be focusing on reversing his loss against Tommy Fury.
De La Hoya advised Paul as he said, "I think Jake Paul should immediately have a rematch with Fury, immediately! If he wants to really be taken serious, because I'm one of the supporters of Jake Paul, like he, you know- he's trying."
The promoter of Ryan Garcia further told Paul, "He's growing as a fighter, so if you wanna- you have to avenge that loss. Once you avenge that loss, then it's a clean slate once again. You're back on top of the world, so."
After this, Oscar De La Hoya talked about his thoughts on whether Mayweather vs Paul is going to happen or not.
ADVERTISEMENT
Article continues below this ad
Oscar De La Hoya does not think Jake Paul will be cutting weight for a fight with Mayweather
When De La Hoya asked about the fight between Mayweather and Paul, he did not know how that was going to work out. He told the reporter, that Jake Paul is too big and it'll be really difficult to cut that much weight. And for that reason, he's a little bit skeptical about their fight.
But then simultaneously, he remarked that Mayweather fought Jake Paul's brother, Logan Paul, who's a big man as well. And he said that if Mayweather is ready to make it happen, and showcase his talent against Jake Paul, then there's a good chance of this fight taking place.
ADVERTISEMENT
Article continues below this ad
Watch This Story: Is Floyd Mayweather Fighting Jake Paul's Teammate Next?
Do you think the fight between Floyd Mayweather and Jake Paul is plausible? Let us know in the comments section.