"The Man's Been Through Too Much Already": Wife Jinkee Consoling Manny Pacquiao After Devastating Loss in Forgotten Clip Prompts Fans to Warn Filipino's Pride About Potential Comeback Against Conor Benn
Published 03/09/2023, 4:00 PM EST

Follow Us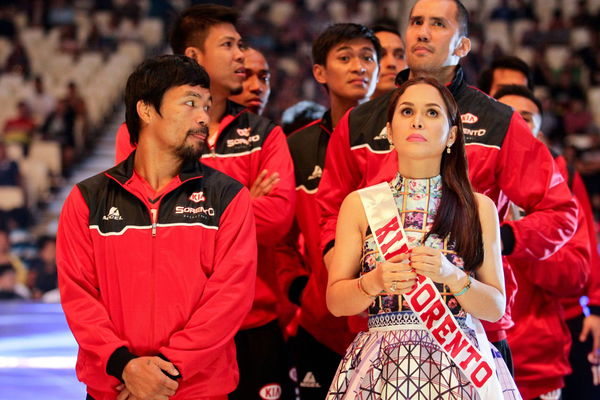 It's a study in contrast. Manny Pacquiao started roughly a year before his arc rival Floyd Mayweather Jr. and retired a good four years after the latter hung his gloves. Mayweather Jr. retired with an unblemished record of fifty wins. On the other hand, Pacquiao has losses, eight to be precise, interspersed between long winning streaks. However, both share an identical knock-out-to-win rate of 54%. Who is the greatest of all time remains a matter of contention among the legions of fans and followers. But there's no denying that both Mayweather Jr. and Pacquiao have carved out a rich legacy that inspires millions.
Manny Pacquiao; is a comeback around the corner?
Dev Sahani, the presenter with Queensbury Promotions yesterday, shared a video of Manny Pacquiao being fed by his wife Jinkee after losing to the Cuban boxer Yordenis Ugas. Reportedly, the Filipino champion finally bid goodbye to the ring a month later.
ADVERTISEMENT
Article continues below this ad
Though he started participating in exhibition fights, he fought thrice last year; talks of an eventual return to active boxing filtered to the happiness and dismay of many.
Close on the heels of the rumors, one of Pacquiao's advisors, Sean Gibbons, recently updated on the possibility of a match with British boxer Conor Benn. The latter, son of boxing legend Nigel Benn, failed drug tests last year, which resulted in a significant bout with Chris Eubank Jr. getting canceled. But a subsequent clearance given by WBC recently has given hopes of a possible return.
Manny Pacquiao's wife Jinkee looking after him in the aftermath of his defeat to Yordenis Ugas back in 2021.

The legendary Pacquiao (now 44 years old) formally announced his retirement from the sport around a month after this sad video was released. pic.twitter.com/6p3MZkVoVA

— Dev Sahni (@devsahni) March 7, 2023
The half-a-minute video has received over 155k views. Soon many fans joined to share their opinions and concerns.
Is it too late for the PacMan?
@Stuart Scott, alluding to the Pacquiao versus Conor Benn news, firmly believes that the fight should never occur. However, he seems to have decided not to watch the match if it ever comes about. For @Stuart Scott, the "PacMan" 'is for good', and his legacy as one of the greatest boxers of all time should remain intact. He cannot fathom that Eddie Hearn is trying his best to get the bout onboard.
This simply should never get sanctioned, but we all know it will. I will 100% not be watching though, it'll be uncomfortable, because pac is done and he's a legend. I can't believe Eddie is even considering making it. Horrible.

— Stuart Scott (@Scottproboxing) March 7, 2023
Walking the line, @AmitChampaneri1 also believes that Manny Pacquiao should avoid the rat race and enjoy his retirement for good.
Let's just hope for his sake and Boxing's sake that he stays retired…

— Amit Champaneri (@AmitChampaneri1) March 7, 2023
@bargleboxing, like many, concurred that given the scale of fights he has participated in, Manny Pacquiao deserves all the rest in the world. 
Lord I hope he never fights again. The man's been through too much already.

— Matt (@bargleboxing) March 8, 2023
@mekemzeke took a different track and highlighted how it went for Yordenis Ugas, the boxer who defeated Pacquiao in his last professional bout. Reportedly, Ugas' wife chided him for crying after losing out to Errol Spence Jr. on April 16 last year. 
Contrast this with Ugas' wife who told Ugas to stop crying as he laid in a hospital bed after his loss to Spence – she told him not to cry, it's not a funeral (paraphrasing).

— Pimpson (@mekemzeke) March 8, 2023
@sergionike03 sighed for Pacquiao but added that he's fortunate to have such a caring life partner. After all, he has worked hard for everything positive that had come his way. 
Sad, hes lucky to have a wife like that to take care of him, sweet life of a fighter. Earned all the good he has. Sweet dude

— Hardcore Boxing (@sergionike03) March 8, 2023
@Git__Ogmason wondered what would have happened if Pacquiao had fought Errol Spence Jr. Taking a dig; he added that probably that fight would have rendered him taking his food with the help of a straw!
ADVERTISEMENT
Article continues below this ad
If pacquiao would've fought Spence he would've been eating threw a straw 😂😂

— OG🦍 (@Git__Ogmason) March 8, 2023
There's an eighteen-year age gap between Pacquiao and Benn. So for the Briton, who fought last on April 11, it would be the big ticket to life in the fast lane. Though for the Filipino, who is way past his prime, win or lose, it might ensure a fat paycheck.
ADVERTISEMENT
Article continues below this ad
Watch This Story: Boxing Schedule March 2023: Caleb Plant vs. David Benavidez, Gilberto Ramirez Comeback Fight Since Dmitry Bivol Loss, Lawrence Okolie's Title Defense, and More
What is your take on reactions? Do share your views and opinions with us in the comments below.