"There's a Lot of Money to Be Made" – Anthony Joshua Positive about Tyson Fury Fight Despite the Latter's Retirement Announcement
Published 05/05/2022, 5:00 PM EDT

Follow Us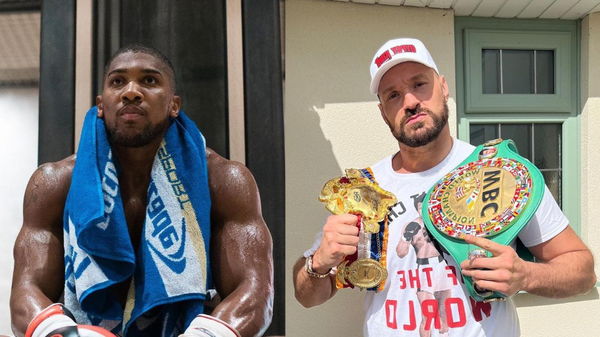 Tyson Fury just earned one of the biggest paychecks of his entire life. In front of an attendance of almost ninety-thousand people, The Gypsy King fought former sparring partner Dillian Whyte on April 23 at Wembley. Following this epic battle in the history of British boxing, Fury hung his gloves and, as of now has retired from the game.
However, for some, it is still hard to consume that The Gypsy King is bidding goodbye. Before the event even went down, Paris Fury, wife of Tyson Fury, talked about hypothetical scenarios that might call The Gypsy King back.
ADVERTISEMENT
Article continues below this ad
When Boxing UK asked for some inside information at the official weigh-in, the following is what Paris Fury had said:
"I'd love it to be his last one. I personally, honestly think if the AJ's [Anthony Joshua] might come, I think he'll take it. I know he couldn't resist it." 
Watch The Story – Boxing Schedule May 2022
As per the statement, it seemed pretty clear that even after the Whyte match, Tyson Fury just might make a return if the right fight came.
So, does Anthony Joshua want a fight against Tyson Fury?
It has barely even been two weeks since Tyson Fury announced his retirement from the game. But there are already talks about Fury making a comeback. Anthony Joshua, whom Paris Fury believed could tempt Tyson Fury to make a return, recently gave an exciting statement.
"If Fury, in the boxing arena, was to come out of retirement and honor the gentleman's agreement, there's a lot of money to be made," Joshua told.
ADVERTISEMENT
Article continues below this ad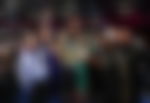 "So, for sure, I feel like retirement doesn't mean that you've completely given up and you're on the beach clicking your phone drinking a bottle of Corona. I feel he's still ticking over and he'll come back if the right fight is presented to him," added Joshua.
Anthony Joshua firmly believes that Fury can return. As much as his words fill fight fans with hope, they poke the retired champion to announce a comeback. Of course, who would not want a fight against Fury who has the potential to bring in over ninety-thousand people?
ADVERTISEMENT
Article continues below this ad
Do you believe Fury will make a comeback? And if he did, will he take the fight against Anthony Joshua? Let us know in the comments below.