Who Trains Manny Pacquiao?: List of Coaches
Published 06/19/2021, 2:15 AM EDT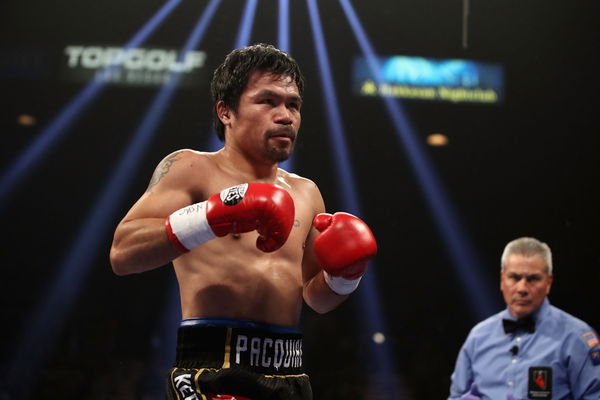 ---
---
Boxing legend Manny "Pac-Man" Pacquiao is well into camp for his next fight. The 42-year-old is coming off a two-year layoff to contest for Errol Spence Jr.'s WBC and IBF welterweight titles. The fight announcement has got the boxing world buzzing.
ADVERTISEMENT
Article continues below this ad
Pacquiao, who in his unprecedented career ruled eight divisions in pro boxing, will take on an undefeated welterweight champion Errol Spence Jr. In an undefeated career spanning 9 years, Spence Jr. has won 21 of his 27 bouts by KO, claiming IBF and WBC gold.
The fight is set to headline the MGM Grand Garden in Las Vegas on August 21.
ADVERTISEMENT
Article continues below this ad
To prepare for the fight, Pacquiao, who also serves as a Senator of the Philippines, will return to the USA. 'Pac Man' will continue to work with Freddie Roach and his training team at Wild Card Boxing.
"Coach Freddie": Pacquiao and his relationship with career-long trainer Freddie Roach
Pacquiao has been working with the 'Hall of Fame' coach for over 17 years now. Roach, who was a well-established professional boxer in his time, has trained multiple champions in his illustrious career. His expertise in the art of hands has not been restricted to boxing only. He has trained multiple UFC champions as well. However, Roach has always maintained that Pacquiao has been his prize pupil.
Roach has been working with the Filipino since his coming-out performance against Lehlohonolo Ledwaba in 2001. He has likened Pacquiao to Muhammad Ali in interviews as well, sharing that working with Pacquiao has changed his life.
Speaking with boxing journalist Constantino Garcia of 'Little Boxing Giant' in 2020, he said, "You own a boxing gym you never know when the next Muhammad Ali's gonna walk through your doors. One day Ali walked through my door and that was real… Manny Pacquiao walks in my door and that was my Muhammad Ali."
"I saw this kid come in through the doors with a couple of guys, who were his managers of course… He says 'Can you do mitts with me?' I said yes."
"After one round I said 'Wow, this kid can fight'. And after one round, he went to his manager and said 'We have a new trainer.'"
WATCH THIS STORY: Best moments from Jermall Charlo vs Juan Macias Montiel press conference
Roach identified that Pacquiao's unparalleled punching power combined with his speed could make him a big name in the lighter weight divisions of boxing. In their numerous years of working together, Pacquiao has said that Roach has helped him balance the two properly. As Roach is highly analytical of his fighter's fights, his meticulously laid out game plans have been extremely valuable to Pacquiao in his career.
Manny Pacquiao's best friend/ cornerman- Buboy Fernandez
Buboy Fernandez has been 'The Pacman's' lifelong best friend. Back home in the Philippines, Buboy Fernandez was working as a janitor, when Pacquiao was ascending the professional ranks. "Pac Man" called on his best friends to train and live with him in Manila. He initially started working at the Manila gym as a janitor.
"I cannot imagine that I am here now," Buboy told the Sydney Morning Herald in 2017. "Our life was so hard: it was like trying to fit through the eye of a needle. Every time that I sleep with my kids now, in my massive bedroom, in my massive home, I tell this story to them where we start from and they cry. Manny wants me to tell them this story: you work hard and you can achieve. So every night, I tell them."
Fernandez has been working as his mitt man for around 26 years now. He will be in the corner of Manny Pacquiao when he takes on Errol Spence Jr.
The reason behind Manny Pacquiao's Speed and Power: Justin Fortune
Justin 'No Nonsense' Fortune has been a former professional heavyweight boxer. He serves as the main strength and conditioning coach to Pacquiao and is the founder of the famous Fortune gym in Los Angeles.
Ahead of the fight with Spence, Fortune was confident in the boxing ability of his pupil. He told ESNEWS, "Pacquiao is a different animal. Spence is very, very good," he continued, "I don't think he's as strong as Pacquiao. He's strong, but he's not 'Manny strong.' And I'm sure he ain't 'Manny fast.' Manny is still incredibly fast [for his age].
ADVERTISEMENT
Article continues below this ad
"[The fight] ends in a stoppage. It's the volume of Pacquiao's punches and the ferocity and the speed and the power. Spence won't lay down, but he's going to take a beating. He'll dish out as much as he gets. Pacquiao has been there before. It's the biggest fight of the year. It dwarfs Wilder and Fury."
Do you agree with Fortune? Can Pacquiao extend his legend by beating "The Truth"?
ADVERTISEMENT
Article continues below this ad