"You Ain't a Money Fight": Viddal Riley's "Slimy" Callout of Tommy Fury Causes Uproar
Published 03/17/2023, 7:00 AM EDT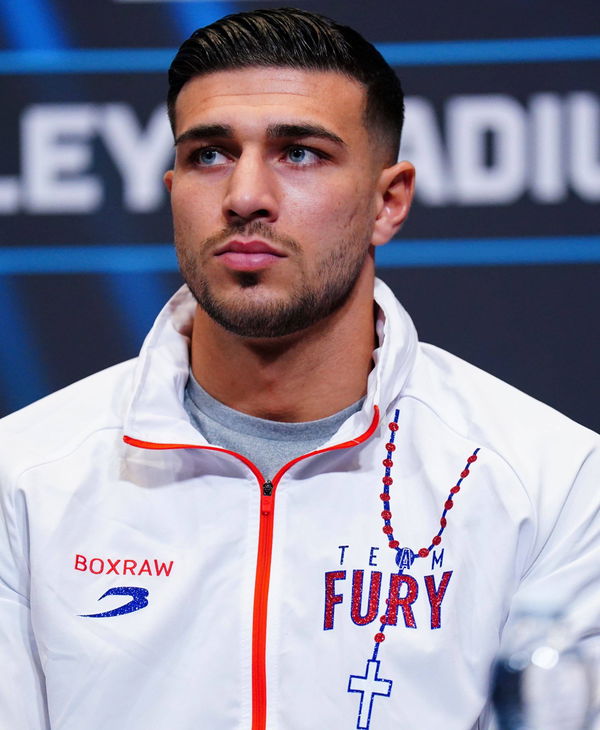 Tommy Fury's name has been soaring high ever since he managed to defeat Jake Paul via a split decision. Fury now has a lot of choices for his next opponent. There are many who would like to propel themselves up using the young Fury's fame. He has even managed to receive a place in the WBC Cruiserweight division. Fury now stands at 39th place, one rank above Viddal Riley. It is safe to say that this has definitely crushed Jake Paul's dream, as Tommy Fury managed to break through the rankings. Riley recently posted a video on his youtube channel, where he shared his thoughts about the situation.
Riley in his YouTube video, claimed that it only makes sense for Tommy Fury to fight him next. Riley said that since both Fury and he are world champion aspirants and are close in rankings, the two should dish it out in the ring. "It'd be a massive fight. The people will turn up," he said.
He also compared other fighters in the division and claimed that he is possibly the next biggest fight for Tommy 'TNT'. "If that's your aspirations, why look anywhere else? Most people in those rankings are not going to bring anything on the table, other than a hard fight and a potential L for Tommy."
ADVERTISEMENT
Article continues below this ad
While some fans are excited about the prospect of the two fighters going head-to-head, others have criticized Riley for not being a big enough draw to entice Fury into a fight. Nevertheless, Viddal Riley is also claimed to be the first YouTuber to be ranked by WBC.
Fans react to Viddal Riley calling out Tommy Fury
Riley's recent callout of Tommy Fury has sparked a wide range of reactions from fans on Twitter in a clip posted by Happy Punch. One Twitter user, @sereneisinhell, pointed out that Riley had previously stated that Fury was not on his level, and had even predicted that Jake Paul would beat Fury in a potential fight. The user also suggested that Fury would not be interested in fighting Riley unless there was a significant financial incentive.
Wasn't he just saying that Tommy isn't on his level? He even predicted Jake to beat him and now he wants to fight him. Hey Forehead, Tommy is interested in money fights first and you ain't a money fight. Get ya bread up @IsitRIL

— Serene (@sereneisinhell) March 16, 2023
Another user, @und1sput3dtak3s, accused Riley of being "slimy" for issuing the challenge and suggested that Fury had more lucrative fights lined up, such as a rematch with Jake Paul and a potential bout with Salt Papi. They also noted that Fury could potentially lose money by fighting Riley and losing.
This is kinda slimy coming from Viddal. Why not just let Tommy make his money first then box you next year or the year after? Clearly Tommy has a Jake rematch, KSI fight, potential Salt Papi fight etc. why would he take this fight and potentially lose and make less money lmao

— Pash (@und1sput3dtak3s) March 16, 2023
Meanwhile, some fans have questioned Riley's motives for issuing the challenge, with user @timatyhe_flames asking whether Riley would have challenged Jake Paul had he won his most recent fight.
But would he have called out Jake had he won? @IsitRIL you picking & choosing??

— Timatyhe Flames (@timatyhe_flames) March 16, 2023
Despite these criticisms, some fans, such as @OfficialBPlus, expressed excitement about the potential fight between Riley and Fury. They also gave their predictions for the bout.
Viddal Riley vs Tommy Fury wow this would be such a sick fight 😳

Their styles, height and reach is almost similar. A Battle of Britain would be a good OVO Arena Main event.

But I got King Kenny winning by decision 🔥

— ️️ ️️️️️️️️️ ️️ ️️ ️️. (@OfficialBPlus) March 16, 2023
ADVERTISEMENT
Article continues below this ad
User @StraightMsss, however, believes that Fury will never accept the challenge
This is actually a massive fight, But Tommy will never accept

— StraightM's (@StraightMsss) March 16, 2023
ADVERTISEMENT
Article continues below this ad
Nevertheless, it seems that a lot of fans don't believe this fight will be taking place. It will all depend on what Fury has to say about this. What are your thoughts on the situation? Let us know in the comments section below.
Watch This Story: Tommy Fury's Luxurious Lifestyle: Mansion, Cars, Net Worth, and More
Edited By: Shibu Immanuel