"Disrespectful": Fans Slam Jorge Masvidal for Mocking Boxing Legend Floyd Mayweather
Published 03/13/2023, 3:29 PM EDT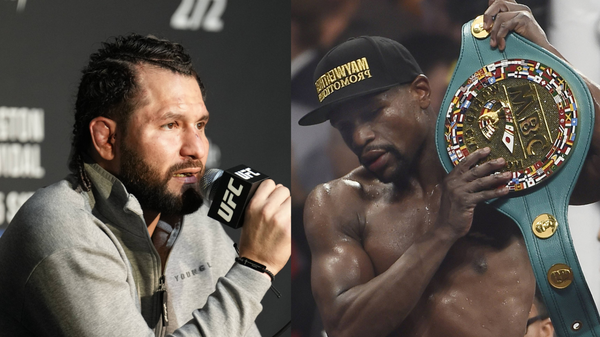 Jorge Masvidal received backlash from fans after he posted a photo collage on Facebook. It featured four legendary boxers – Larry Holmes, Evander Holyfield, Mike Tyson, and Floyd Mayweather Jr. In the picture, the boxers were posing in front of their respective statues, except for Floyd Mayweather Jr., who was standing in front of a duck statue. It's highly possible that the photo was photoshopped to mock Mayweather, as Masvidal captioned the post "Legends and their statues".
The post didn't sit well with some fans who thought Masvidal was being disrespectful to Mayweather. Fans slammed the MMA fighter on social media for making fun of Mayweather, who is widely regarded as one of the greatest boxers of all time. Although people have begun to show their discontent toward Floyd, 'Money' has been fighting in exhibitions after his retirement. He received a lot of hate when he performed a 360, mid-fight against Aaron Chalmers. That may be the case, but it still does not overshadow Mayweather's glorious past filled with victories against top opponents.
Fans rally behind Floyd Mayweather after Jorge Masvidal's statue comment
ADVERTISEMENT
Article continues below this ad
Jorge Masvidal recently sparked controversy when he took a jab at boxing legend Floyd Mayweather by indirectly calling him a duck. However, fans quickly came to Mayweather's defense, stating that Masvidal's comment was disrespectful and unwarranted.
Baltazar Castro spoke out against Masvidal's comment, stating, "Disrespectful ¡¡¡ mayweather great and smart fighter."
Richard Race, a fan of Mayweather's defensive style, said, "If one can't admire great defense so that one's head isn't ringing for the rest of their life, then the Rough&Roudy fights are for you."
Evan Nunes also praised Mayweather's boxing strategy, stating, "Goals to win by any means not entertain. Floyd did it right he's still able to talk properly and walk around and he'll be doing that a lot longer than most boxers."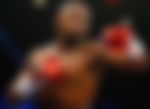 Tanacius Campbell pointed out Mayweather's impressive record, saying, "The man beat more world champs than anyone else here and his statue is a duck?"
ADVERTISEMENT
Article continues below this ad
Read More – Floyd Mayweather's Birthday Bash Announcement Causes a Stir Ahead of UK Exhibition
Rommel Naulniv even acknowledged the cleverness of Masvidal's comment, stating, "Floyd's a good boxer but I have to admit…this is good."
However, Aris Blor suggested that Masvidal's comment was rooted in Mayweather's tendency to avoid certain opponents, saying, "That explains it. The one claiming he's the GOAT has that statue because he had been ducking his opponents during their prime."
ADVERTISEMENT
Article continues below this ad
Watch This Story: Event Recap: Floyd Mayweather vs. Aaron Chalmers Disappoints
Nonetheless, Mayweather's loyal fans were quick to rally behind him. They defended his legacy as one of the greatest boxers of all time.