"I Wanna Say This Exclusively" – Oscar De La Hoya Expresses Desire to Work Alongside Rivals Floyd Mayweather and UFC President Dana White
Published 05/11/2022, 11:30 AM EDT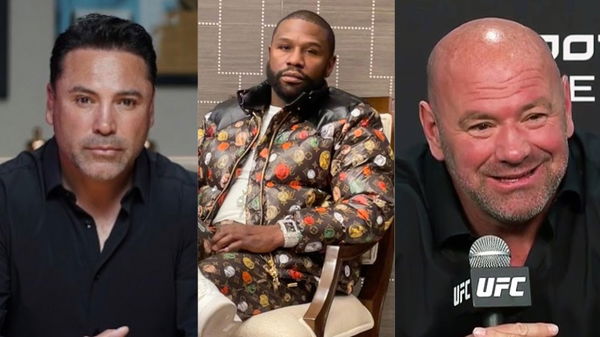 Oscar De La Hoya has had his differences with boxing's living icon, Floyd Mayweather, and the UFC president, Dana White. With Mayweather, De La Hoya has shared a rivalry both inside and outside the ring. The CEO of Golden Boy Promotions, Oscar De La Hoya, who once trained under the instructions of Mayweather Sr., had fought the latter's son in 2007. Billed as The World Awaits, Floyd Mayweather vs. Oscar De La Hoya was a huge matchup in contemporary boxing.
However, De La Hoya, an Olympic gold medalist, retired two years after his fight with Mayweather and became a full-time promoter. In the recent past, the former world champion made headlines when he spoke about UFC fighters' pay and caught the attention of president Dana White. After all these years, De La Hoya expresses his desire to patch things up between himself and his rivals White and Floyd Mayweather.
ADVERTISEMENT
Article continues below this ad
In a recent interaction with ESNEWS, De La Hoya said the following about Mayweather and his relationship with the same:
"I wanna say this exclusively. Me and Mayweather have had our differences, you know, over the years. As we've grown up, as we've learned in this business, in this game, like obviously, you know once, there's no beef anymore, you know."
Watch This Story – Floyd Mayweather Vs Don Moore Stats: Record, Age, Height, Reach, And Knockout Ratio
"I actually admire what Floyd has done in the ring and what he's doing outside the ring as a business. More power to him. It's admirable. I actually wish him and want him to succeed as much as possible," he added.
The above comments from the legend clearly make the fans wonder what could be the reason for such admiration towards Mayweather?
What is the reason behind this admiration for Floyd Mayweather out of the blue?
Oscar De La Hoya and Floyd Mayweather both have had their own promotions in the game. While De La Hoya has promoted stars like Canelo Alvarez and Ryan Garcia while Mayweather has established the likes of Badou Jack, Mickey Jr., and Tank Gervonta Davis.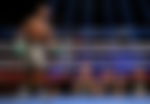 De La Hoya wants to come together with Mayweather and White and do something huge in the sport.
ADVERTISEMENT
Article continues below this ad
"Because, you know, this is a tough sport hard sport and so, you know. Hey, let's get together, do something where we become a powerhouse. I'm working on actually several projects right now that are gonna be even more lucrative than my career was."
ADVERTISEMENT
Article continues below this ad
"And I would love to like one day work with Floyd Mayweather and Dana White. Come together as a powerhouse and do something huge," he added.
What projects is Oscar De La Hoya talking about? What plans does he have in mind? Will Mayweather and Dana White agree to his proposal? All shall be answered in time. Meanwhile, what do you think about De La Hoya's plans? Let us know in the comments below.
Edited By: Vibhanshu Kumar