Everything You Need to Know About Floyd Mayweather's Rare Arnold Schwarzenegger Prize Possession
Published 08/13/2022, 2:15 PM EDT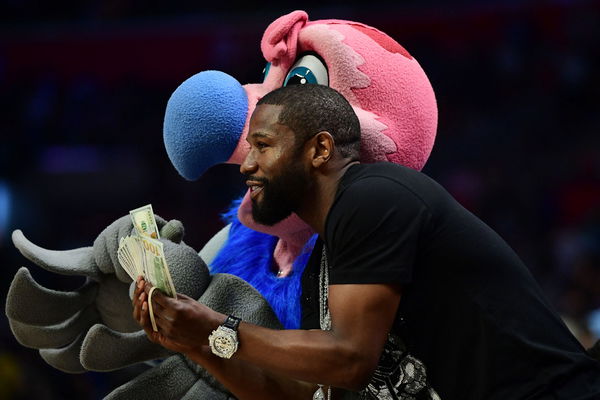 If there was one thing Floyd Mayweather maintained equally well, other than his unbeaten record in professional boxing, then it would be his way with expensive items and their material worth. Frequently, 'Money' Mayweather unabashedly showed off his collection of expensive jewels, watches, and cars. Although the fact that Mayweather was one of the richest athletes of his time hardly ever sparked a doubt, TBE deliberately took to social media and bragged about his possessions and wealth.
In the year 2019, Mayweather roamed around wearing a rose gold, limited edition Arnold Schwarzenegger. As described by Mayweather himself, the watch was a 48mm AP Royal Oak Offshore Chronograph- all factory.
ADVERTISEMENT
Article continues below this ad
Watch This Story – Forbes Top 10 Richest Athletes List 2022: LeBron James, and …
Even though Mayweather flexing his expensive limited edition of Arnold Schwarzenegger received mixed reactions from the fans, the star went on. What was the price of the mentioned watch? Here is all you need to know about the rose gold Schwarzenegger Mayweather flexed and some other watches he has held in caring custody.
The mindboggling collection of expensive watches regularly flaunted by Floyd Mayweather
The rose gold limited edition of Arnold Schwarzenegger cost Mayweather a whopping figure of $66,999. Mayweather, who revealed his net worth to have crossed $1.2 billion, often has flown and roamed around with expensive watches around his wrist. It is indeed no mystery that Mayweather has a soft spot for watches like other valuable belongings in his life. One of the most successful pay-per-view fighters of all time, Mayweather, has both generated and earned a ridiculous amount of money. In fact, a recent study found Mayweather to have surpassed $3 billion from PPV in total.
ADVERTISEMENT
Article continues below this ad
In an old encounter with Fight Hype, Mayweather offered a detailed tour of his collection of watches. Like a child taking immense pleasure in his toys, 'Money' demonstrated the watches and how they each would function. Red rubies, diamonds, and gold had brilliantly decorated the shine of those he was carrying around. While the interviewer watched in complete awe, Mayweather calmly went from one watch to another. In his collection, Mayweather described one watch as "MGM Grand bought me this." TBE carried on and he paid little attention to everything else around him. Apart from the MGM Grand one, 44mm Patek Philippe, the White Gold, the one from Jacob the Jeweler, and the Richard Mille were other watches he showed.
ADVERTISEMENT
Article continues below this ad
Although Mayweather sometimes receives harsh criticism for showing off his wealth, he doesn't seem to really care. What do you think about Mayweather's collection of watches? In addition, do you think he is overtly materialistic? Let us know in the comments below.
Edited By: Ajinkya Aswale