DeAndre Jordan accepts Mavericks contract offer
Published 07/04/2015, 1:42 PM EDT
By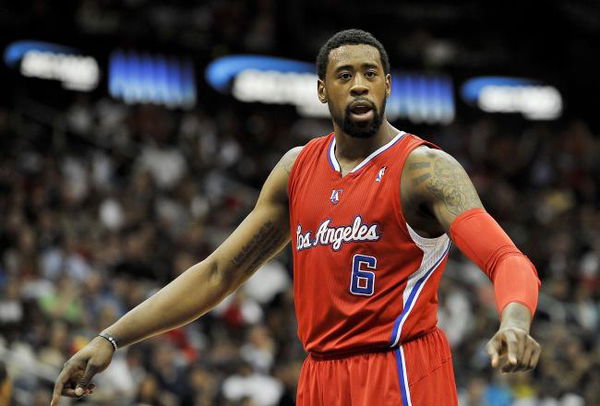 From the major turnaround events this transfer window, an important transfer that has taken place is that of 7' centre and Clippers star-man DeAndre Jordan, following the release of reports claiming that there was a rift between Clippers Guard Chris Paul and Jordan. It was rumoured that the internal disagreement between two stars will lead to Jordan's exit and the rumours established a stronghold when Jordan showed an interest in Lakers and Knicks. And, these rumours have turned out to be true.
It's now official, DeAndre Jordan no longer will share the court in the same team with Blake Griffin and Chris Paul trio, who were together known as the Los Angeles Clippers Big Three. In the 15 games that Griffin didn't play last season, Jordan averaged 14.9 PPG and 18.5 RPG. No NBA player has averaged 14 points and 18 rebounds for an entire season since Elvin Hayes in 1973-74. He was Clippers dominant force in the offense and collected the ball off both the glasses when he averaged at 11.5 points and 15 rebounds with 2.2 blocks in 34 minutes off bench. He finished first in the league in terms of field goal percentage i.e. at 71% inside the arc last season and also with the maximum number of rebounds. During the 2012–13 NBA season, Jordan's free throw percentage dropped from 52% to 38%, which was one of his career worsts. However, he led the league in field goal percentage, shooting 64.3%. On April 29, 2014, he became the first NBA player with at least 25 points, 18 rebounds and 4 blocked shots in a playoff game since Tim Duncan in 2008. He, along with Paul and Griffin, were the standing pillars of the Clippers. They all led the Clippers to a good season with finishing 2 in Pacific Division and reaching the Semi-Finals just falling short one game to Rockets.
Sources have confirmed that Mavericks and Jordan have agreed on a 4 year $80 million deal, with possibilities that permits the highly coveted centre to return to free agency in 2018. He will be excited to represent the city where he had once played for A&M College, Texas. "We think he is going to be our best player for years to come," Mavs owner Mark Cuban stated. "A franchise player for the rest of his career." He also proudly stated that he sees Jordan "as Shaq-like" and "capable of being a 20-20 guy."
With this deal completed the Mavericks can try and continue negotiating with another free agent, Matthews. Also, Jordan electing the Mavericks, the Knicks have settled to a deal with free-agent centre Robin Lopez, sources said.