Dr Disrespect Hilariously Mocks Cyberpunk 2077 For Constant Delays
Published 11/06/2020, 5:59 AM EST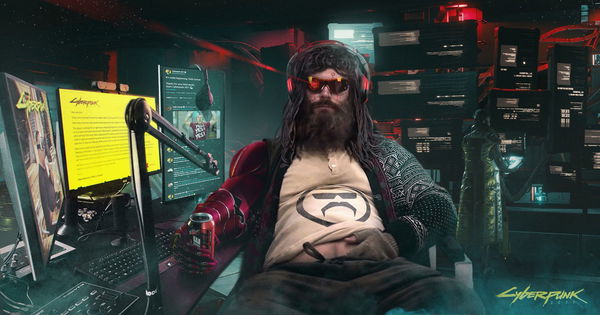 ---
---
Cyberpunk 2077's delay was definitely a shocker. Fans all over the world expected the game to finally come out on November 19, but fate, or rather CD Projekt RED, had other plans. The game was delayed to December 10 in a bid to ensure that the game is ready for the current-gen as well as the next-gen platforms. Obviously, the fans were furious about this. Dr Disrespect has jumped on the bandwagon and has mocked Cyberpunk 2077 in the most 'Doc' way possible.
ADVERTISEMENT
Article continues below this ad
Doc took to Twitter to show how he felt about the entire situation. He may be a little late to the party, but his reaction was hilarious nevertheless.
ADVERTISEMENT
Article continues below this ad
Doc morphed his face on to the lazy Thor character from Avengers: Endgame, perfectly showcasing the state of fans across the world who are tired of waiting for the game.  Although, as humorous as this looks, it is indeed quite strange from Doc. Recently, he teased a possible collaboration with Cyberpunk via Twitter.
Dr Disrespect is possibly collaborating with Cyberpunk 2077
The possibility of a Cyberpunk-Doc collaboration sent fans into meltdown. Many wondered whether Doc is going to be a character in the game. His graphics on stream, style, and persona all fit the Cyberpunk genre, and it would be a match made in heaven.
ADVERTISEMENT
Article continues below this ad
Nevertheless, there is still no update on the same, and since the game was delayed, this possible announcement would've been pushed as well.
Knowing Doc, there is definitely something big in store for the fans. On the other hand, the delays have already caused a lot of damage to CDPR. For instance, its stock dipped by almost 25% as the companies lost billions. In addition to this, the game is also no longer eligible for the GOTY 2020 award at this year's Game Awards. These are huge blows for CP 2077, considering it is the company's most ambitious project to date.
One other thing that was absolutely uncalled for was the developers getting death threats. But thankfully, CDPR took the necessary actions against these hate-mongers swiftly.
ADVERTISEMENT
Article continues below this ad
Cyberpunk 2077 now releases on December 10. Hopefully, the game won't be delayed again and fans will get to experience it in 2020 itself.