Call of Duty Warzone: Glitch-Inducing Armored Truck Removed From Game Following Season 4 Update
Published 06/18/2021, 12:41 PM EDT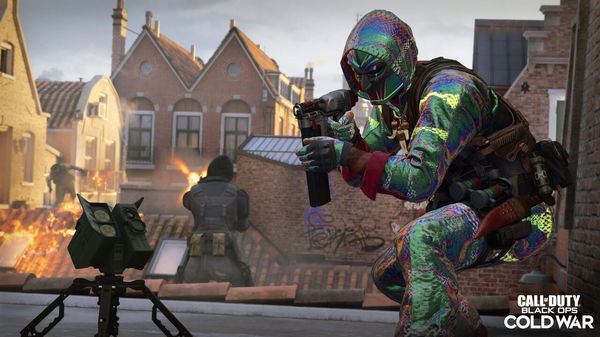 ---
---
The Season 4 update of Call of Duty Warzone added armored trucks to battle royale game modes. Even though devs intended to make the game more fun, the game ended up being just the opposite.
ADVERTISEMENT
Article continues below this ad
Players started to figure out ways to use the armored trucks to gain an unfair upper hand over their foes by exploiting a glitch. The devs soon realized their mistake and took the armored trucks out of the game.
Why did Call of Duty remove armored trucks from Warzone?
ADVERTISEMENT
Article continues below this ad
The arguments revolving around armored trucks in Warzone aren't new. With a robust build, these armored vehicles are nearly impervious to damage. And it's not just that. These trucks come equipped with a turret gun. And that makes it a breeze to take down any enemy who is unfortunate enough to be in its way.
Players also quickly found a way to exploit an invisibility glitch. The glitch is associated with the truck and renders players invisible.
Watch This Story: Fortnite Chapter 2 Season 7: Interesting theories about the new season
The game has had its fair share of glitches from the start, but this glitch outright broke the game. Players worldwide took to online forums like Reddit to express their discontent, claiming they had been killed mercilessly by enemies they couldn't even see. The outrage would only continue to grow till the devs finally took notice and removed the truck, called Big Bertha.
ADVERTISEMENT
Article continues below this ad
Players are not happy with Warzone
As this debacle happened within the first few hours of the seasonal update, players aren't too happy. Instead of making the game better, the devs had made the game worse. Though removing the armored disasters was necessary damage control and will regain some of the player's confidence in the game, some players are looking for an alternative in Battlefield 2042 which will release in October.
Aside from the armored truck issue, Warzone, this season, brings players new guns, skins, blueprints, and more. By continuously supporting the game and also listening to its player base, devs could redeem themselves in the eyes of Call of Duty Warzone players.
ADVERTISEMENT
Article continues below this ad