This Glitch Gets You Unlimited XP in Call Of Duty Black Ops Cold War
Published 02/21/2021, 12:59 PM EST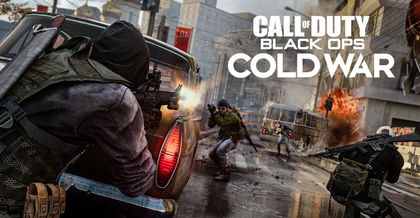 ---
---
Call of Duty has been plagued with glitches since 2020. The release of Call of Duty Warzone saw the discovery of the stim-glitch, and hacking has been extremely prevalent due to its free nature. Black Ops Cold War released on 13, November 2020. Consequently, it marked the return of the fan-favorite "Zombie" mode. In this mode, you can join 1-3 players to take on the undead. The aim of the game is to kill zombies, upgrade your weapons and survive for as long as you can.
ADVERTISEMENT
Article continues below this ad
Recently, a glitch has emerged that allows you to get unlimited XP in the Call of Duty zombie's mode. It makes use of the god-mode glitch and can only be done on the Firebase Z map. Not only will this glitch help you farm XP at a high rate, but also earn the coveted 'Dark Aether' camo.
How to exploit the glitch in Call of Duty Zombies?
ADVERTISEMENT
Article continues below this ad
Firstly, enter the Firebase Z map with another player, preferably a friend. Once you have enough points from killing zombies, purchase the 'tombstone soda'. If you're in possession of a tombstone soda from the machine, you can revive yourself with all your weapons and gear once, after dying.
After you have obtained this, you must allow the last zombie to down you. When the tombstone timer is about to expire, you must activate the tombstone and your teammate must kill the zombie. This will glitch the game as you will respawn due to the end of the round and the tombstone soda. Furthermore, you must enter and exit the portal; doing so, you will achieve god-mode. This means that zombies will not be able to kill you.
Before going any further, it's recommended to turn on the power generator and acquire a 'Pack-a-Punch' weapon. These are the best weapons in Zombies and will be hard to acquire later on in the glitch.
ADVERTISEMENT
Article continues below this ad
Following this, you need to acquire the 'Cymbal Monkey' for 1000 salvage parts. The person who is not the host then needs to throw the monkey against the wall of the weapons lab. Right before the monkey hits the ground, the host must pause the game and everyone except him must leave.
The Cymbal Monkey will explode but doesn't disappear, which means that zombies will constantly be lured to it giving you easy critical kills and XP. You should act on this glitch as soon as possible because it is likely to be patched by Treyarch soon.
ADVERTISEMENT
Article continues below this ad