Drive to Survive Season 3 a Lot Better Than Season 2?: "The Best One Yet"
Published 03/15/2021, 9:30 AM EDT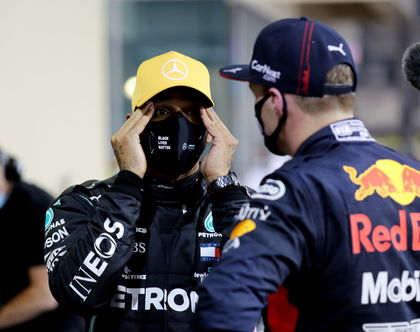 ---
---
Netflix's Drive To Survive series has garnered a lot of attention and viewers after season one released in 2019. That first season attracted a lot of new fans into the sport, which gave Netflix and F1 license to milk this success further. Season three will release on March 19 and to whet the appetite, the official embargo on reviews was lifted on March 12.
ADVERTISEMENT
Article continues below this ad
The early reviews, from personalities who work within F1, and its associated industry, have been overwhelmingly positive. Season three, according to these reviews, is a marked improvement on season two. This makes for encouraging reading and will give fans of the show something to look forward to. It could also mint a few more new fans of the sport.
What makes season three of Drive to Survive unique, and why is it better than season two?
ADVERTISEMENT
Article continues below this ad
Season three of DTS was filmed in really unusual circumstances. It filmed the 2020 F1 season when the world was gripped by a global pandemic. 
Binged the latest season of Netflix's Drive to Survive Series 3 and reckon it's the best one yet. And that's not just because my Moonboots feature in Episode 3 😉 #F1 https://t.co/QFvm4gruIw

— Lawrence Barretto (@lawrobarretto) March 12, 2021

Kudos should be given to Netflix for filming the series. Getting appropriate access despite the restrictions which were enforced amid the Coronavirus pandemic makes filming the season a great success in itself. This series would also be one of the first, which shows how a major sport functioned behind the scenes in a pandemic. 
With the embargo lifted today on reviews for season 3 of Drive to Survive, I can honestly so it's the best so far. The consistency across the series as a whole and the quality of the story telling is outstanding. The Mercedes and Ferrari episodes in particular are excellent.

— Will Buxton (@wbuxtonofficial) March 12, 2021

Season two of the series, while a success, didn't do as well as season one. There were a lot of moments that didn't go down too well with traditional F1 fans. While season two did see Ferrari and Mercedes give the green light to film them, not enough time was devoted to them. Moreover, many believed that the bonafide star of season one, Guenther Steiner, was given too much air time. 
The editing also looked a little rushed and according to the reviews, that has been rectified in the upcoming season.
The top moments which were covered in season three
According to the reviews, Pierre Gasly and Sergio Perez's maiden race wins were covered extensively and tastefully. 
ADVERTISEMENT
Article continues below this ad
The Gasly Monza win ranks as one of the moments of season three based on the reactions. Renowned funnyman on the paddock, Lando Norris gets a lot more air time than the other seasons. 
Sebastian Vettel's departure from Ferrari was also filmed appropriately, with early indications that the Italian team would not be viewed in a great light. 
Unfortunately, when editing a series like this, not every great or heartwarming moment makes it into the final edit. And unfortunately,
George Russell's
mature drive in Bahrain for Mercedes didn't make it. 
And finally, the scariest moment of the 2020 F1 season,
Romain Grosjean's
crash in Bahrain got an entire episode devoted to it. Based on reviews, this episode could divide a lot of F1 fans. It is said that the crash was maybe "overdramatized" by Netflix in the final edit. So that will be one episode to watch.
ADVERTISEMENT
Article continues below this ad
So, all in all, season three of DTS is way better than season two, according to these reviews. F1 fans are counting down the days to March 19 and hopefully, the normal viewers are also satisfied by it.