"Explain to Me Why Does Ferrari Have a Fashion Show?": Fans Go Berserk as Meme-Worthy Looks Grace Ferrari Fashion Show
Published 09/25/2022, 2:26 PM EDT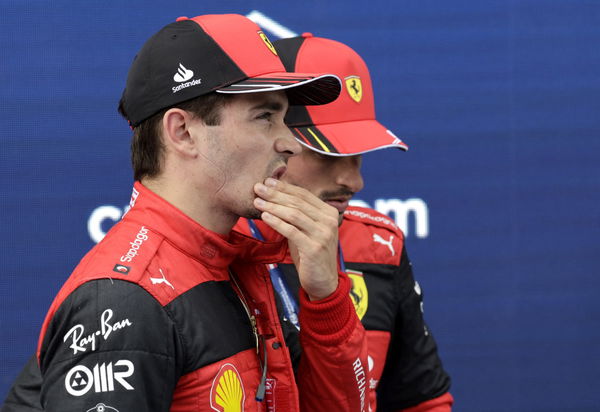 Ferrari is always up and up on all things classy. Mid-season, in-between races, they have put up an extravagant fashion show in Milan. Dictating style and class, the Italian Manufacturers have left no stone unturned for the event. However, fans are torn about where they stand. Some are extremely taken by this, whilst the rest can't help but snigger.
Dressing up their models, Ferrari has created debatably the most sophisticated line of clothing. And the fans have things to say!
The show was live-streamed today. They named their line 'The Dream of Dreamers'. Ferrari describes it as "Recalling the human element in a legendary history and evolving aesthetic vision, between heritage and modernity, emotion and excellence."
The collection is said to be passionate and a form of self-expression.
Creating a 'laid back distinctive look', Ferrari has put together silhouettes and elements of their iconic existence into clothing that exudes the same class the name carries. They explain it as, "The evolution of Ferrari's stylistic codes reveals an exclusive collection of sophisticated and fluid clothing characterized by clean lines, primary colors and fine fabrics."
Fans on their YouTube Livestream had a voice and weren't shy to use it:
"1. Make clothes 2. Slap Ferrari on it 3. Big price tag 4. Profit"
While some were supportive of the company's work and wrote, "Amazing work really. Ferrari has such a style in everything"
Not only was this quite a highlight at the Milan Fashion Week, but the fans couldn't keep cool as they posted anecdotes from the event on Twitter!
F1 Fans were losing their mind on Twitter
As Ferrari live streamed the event, fans posted their favorite tidbits from the event. They clearly couldn't contain their thoughts.
Charles Leclerc was also spotted in Milan for the big event today.
Watch This Story: Ferrari Favourite Charles Leclerc Spotted with French Soccer Bombshell Paul Pogba
Edited By: Ranvijay Singh