"I'll Be Racing My Heart Out" – Lewis Hamilton Issues Encouraging Statement to Fans Ahead of 2021 F1 Season
Published 02/13/2021, 8:24 AM EST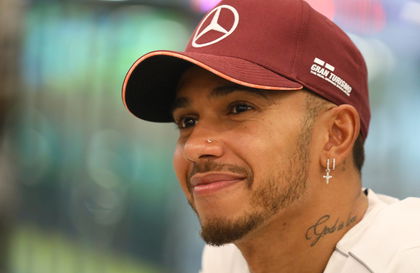 ---
---
In the social media frenzy that followed Mercedes' announcement of the extension of their contract with Lewis Hamilton, there was one voice missing – the Briton's. While fans of F1 were taking a sigh of relief and celebrating the fact that they'd get to see the seven-time world champion on the track this year, Hamilton was nowhere to be seen.
ADVERTISEMENT
Article continues below this ad
However, the driver has now taken to social media to comment on his contract extension.
The wait for this announcement seemed never-ending, and the longer the negotiations went, it looked more and more like he would be without a race seat for 2021. Thus, the announcement was greeted with widespread joy among Hamilton and F1 fans far and wide.
ADVERTISEMENT
Article continues below this ad
But there was a sense of unrest over him not having posted anything on his social media platforms. Speculation flew around that he was left very unhappy with getting just a year extension when he wanted a multi-year contract. He finally broke his silence on February 12.
Lewis Hamilton breaks his silence on social media
Hamilton gave an explanation for his brief absence. On Instagram, he said, "Hey guys, sorry I've been absent from here for a while, I've been focusing and preparing for the season ahead."
 

View this post on Instagram

 

"I consider myself lucky to have had this time to reflect and prepare. I remain positive and excited for the season ahead but want you all to know that I'm thinking of you out there, hoping you are well. 
The driver ended his message on an uplifting note, giving his fans something to look forward to.
"I miss so many of you and can't wait to hopefully see you again soon if not in person then online. But one thing is for sure I'll be racing my heart out for you this year!"
However, some people think that there's more to Hamilton's post than meets the eye.
What to make of this message?
The last line in that message makes for interesting reading. Some believe that it is a potential hint at him exiting the sport in 2022, something that would be very sad news for F1 fans everywhere if this were to take place.
There is significant speculation about Hamilton's retirement from F1, and there are several factors contributing to it.
ADVERTISEMENT
Article continues below this ad Firstly, the driver has, in the past, spoken about his desire to move on from the sport and focus on other things. Moreover, fans believe that he signed a one-year deal with Mercedes because he feels that his goal is to clinch that record-breaking eighth world championship and leave the paddock on a high.
The Briton is already amongst the older drivers on the grid, and he'll be 37 by the time the 2022 season comes around. So, his age isn't working in his favor either.
ADVERTISEMENT
Article continues below this ad
Whether or not Hamilton retires from the sport after this season, no one knows. But one thing is for sure – the only thing he will be focusing on this year is his eighth title, one that will make him the champion of the champions of F1.