Lewis Hamilton Reflects on Battle With Verstappen in Heartfelt Instagram Story
Published 03/31/2021, 4:58 AM EDT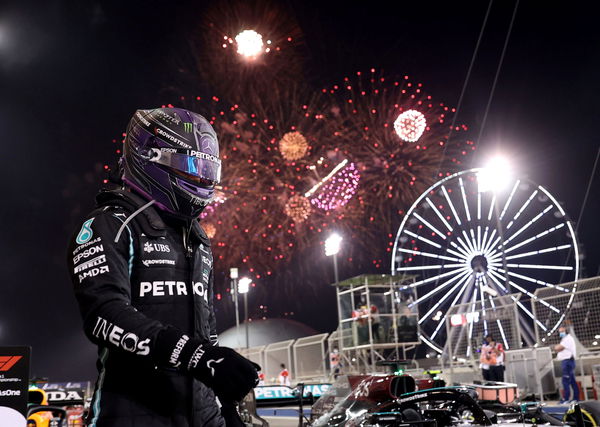 ---
---
Lewis Hamilton further added to his F1 legacy by winning the Bahrain Grand Prix on March 28. Hamilton put in one of the most composed drives of his career and staved off the challenge of Max Verstappen across the finish line by a mere 0.7 seconds. The Brit would have been very proud of the way he pulled this race win out of nowhere. Hamilton said as much on social media when he liked how he dealt with Verstappen and the pressure that comes with it.
ADVERTISEMENT
Article continues below this ad
The Brit didn't have a great race weekend by any means, but he did drive a great race. He wasn't able to compete with Verstappen on Qualifying pace as the Dutchman beat him by four-hundredths of a second. But during the race, he was aided by a bold strategy by Mercedes. Having a little nudge from the stewards also helped matters.
Lewis Hamilton grateful for the win and impressed with how he dealt with Verstappen's charge
ADVERTISEMENT
Article continues below this ad
On his Instagram story, Hamilton was very happy with how his weekend went and expressed the same in his story. He wrote, "What a weekend. It always feels like the first time. I guess it's because there's always a different journey to get there. I love that."
The Brit was also happy with how he dealt with adversity brought out by Verstappen and how he dealt with the pressures involved in the race. He wrote, "But this weekend there were other pressures-pressures that reminds us that it's easy for people to stay in the comfort zone. But often the most growth comes from challenging ourselves.
"Today I encourage you to stand up for something you believe in-whether that's publicly or behind closed doors. I'm especially grateful for each of you. Because you encourage me to do better, to lead by example, and stand up for what I believe in."
Should the Brit be satisfied with the Bahrain result?
Lewis Hamilton and Mercedes will both be very aware that they came away with the result in Bahrain through some degree of luck. They needed a bit of help from the stewards to come away with the victory. While their strategy was bold, it had the very real potential of going pear-shaped if the stewards hadn't intervened on Verstappen's pass on Hamilton.
ADVERTISEMENT
Article continues below this ad
Mercedes will need to come up with great improvements for their car as they look to get prepared for the Emilia Romagna Grand Prix at Imola in three weeks' time.
They know that relying on bold strategies every time is unsustainable. This, in turn, could lead to their season going sideways very quickly. But, this could be what makes the 2021 season exciting, and long may it continue.
ADVERTISEMENT
Article continues below this ad