Sebastian Vettel 'Is Getting Beaten to a Pulp' Says Former F1 Champion
Published 03/30/2021, 4:25 AM EDT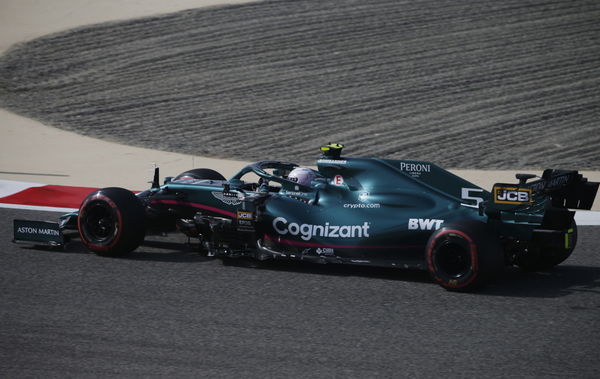 ---
---
Sebastian Vettel made the surprise decision of joining upstart Aston Martin for the 2021 season. This came after he was unceremoniously booted out by Ferrari in the midst of the 2020 season. However, Vettel's hopes of a fresh start with a new team fell flat when he had an underwhelming performance at Bahrain.
ADVERTISEMENT
Article continues below this ad
Former F1 world champion Damon Hill thinks that Vettel has lost that edge he had psychologically after he made some high-profile errors in previous seasons.
Ferrari opted to go for a change of direction in terms of driver lineup when they signed Carlos Sainz. This was in the midst of the forced hiatus in F1 due to the pandemic. This in turn contributed to the German having one of the worst seasons of his career as he had to deal with a poor car as well as his shot confidence. Teammate Charles Leclerc's sudden rise also didn't help make matters any easier.
ADVERTISEMENT
Article continues below this ad
Sebastian Vettel needs to recover psychologically according to Hill
On the podcast F1 Nation, Damon Hill spoke about the abuse he was getting from the media.
"It's like watching that Mexican game at the party, the pinata. He is getting beaten to a pulp. What's happening to him is awful to watch. I do feel something has got to shift in his psychological constellation. He needs to see a mystic and go and have some sort of evil spirit removed from him. He's done something wrong to deserve this."
Hill was asked whether the 2018 German Grand Prix was the start of Vettel's demise.
"I think there is some sort of psychological balance tipping point thing. And I think that if you feel on your heels if you feel a little bit tentative about anything. It's like a rugby tackle, you cannot go in half-baked."
Hill feels that Vettel should try to let go of all those previous bad experiences and get back in the car with a free mind on track.
"And he's feeling like that the punishment he's been getting. And the bruising he's been getting has been worrying him. I'm afraid it just gets worse, it has to be a kinda jettisoning of all those bad, negative feelings. Once he's done that, he's got all the ability in the world. He could race at the front with Lewis and with Max."
The German's underwhelming beginning at Bahrain
ADVERTISEMENT
Article continues below this ad
Sebastian Vettel couldn't have hoped for a worse start to his stint at Aston Martin. He endured a weekend of horrors as his bad luck from pre-season at the same venue followed him into the season-opening weekend.
It started in Qualifying when he was eliminated after Q1 in P18. He was unfortunate as just as he was about to start his flying lap, a yellow flag was called for the Nikita Mazepin incident. But to make matters worse, he was ordered to start at the back of the grid as he had failed to heed the afore-mentioned yellow flag warning.
He then recovered from this with a great start but as the race drew on, he slowly fell and finished 15th out of 16 classified cars. Surely, that bad luck can't continue all season long. F1 fans will be hoping he gets his mojo back as a good Vettel brings some great value and entertainment to F1.
ADVERTISEMENT
Article continues below this ad
Read More:- Here's Why Fans Are Furious With Ferrari and Mattia Binotto Over Sebastian Vettel's Contract