WATCH: A Lap Around Jeddah Street Circuit for the Saudi Arabian F1 Grand Prix
Published 03/18/2021, 6:45 AM EDT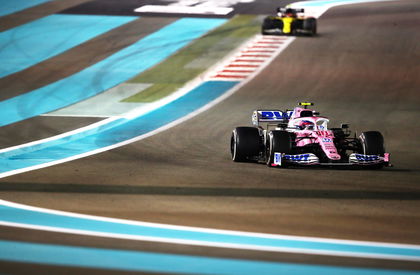 ---
---
The 2021 F1 season will see teams compete at a record 23 races. Teams will travel to 22 different countries across four continents to compete in what will turn out to be the most grueling and condensed calendar ever. Among the 23 races, there is a brand new location as F1 takes the racing extravaganza to the desert sands of Saudi Arabia.
ADVERTISEMENT
Article continues below this ad
This is planned to be the penultimate race of the calendar as the season gradually winds down in Abu Dhabi. The staging of the race in Saudi Arabia has been met with criticism from certain agencies with regard to the country's practices.
What do you need to know about the Jeddah Street Circuit?
ADVERTISEMENT
Article continues below this ad
The circuit, set in Jeddah and situated on the Corniche, is set against the backdrop of the picturesque Red Sea.
The track has been certified as an FIA Grade One Street Circuit. This will be the longest street circuit of the modern calendar as it is 6175 meters long. It also has decent width, as it will vary between 10-15 meters when the race weekend rolls around.
The circuit features a series of long straights and tight corners. The 27 turns in the circuit, with the 16 lefts and 11 rights, will really test the stability of the car; overtaking will prove to be quite a challenge, as the corners at this circuit are not really conducive to that.
This claims to be the fastest F1 Street Circuit in the world with a simulated average lap speed of 250 km/h. The location of the three DRS zones will also allow fans to witness an exciting night of fast-paced racing. 
The race will take place December 3-5, 2021, and will be a night race, the second such race on the calendar.
Can teams cope with the long F1 calendar?
This season will test the teams not just on the track, but also logistically as well, with this season taking place in different corners of the world. This season will see the comeback of the poorly received triple-headers as there are two such cases in 2021. 
ADVERTISEMENT
Article continues below this ad

While one sees teams travel to Russia, Singapore, and Japan on consecutive weekends, the other triple-header features trips to the United States, Mexico, and Brazil.
This will see teams employing rolling crews as they look to offset the mental fatigue and jetlag which accumulates. Teams will need to be well attuned to the need of their crew.
ADVERTISEMENT
Article continues below this ad
Let's that this doesn't lead to burnout among the essential members of the team as well as the drivers.