'What a Dirty Driver' – When Lewis Hamilton Pulled off a Thrilling Pass on Michael Schumacher
Published 04/06/2021, 7:50 AM EDT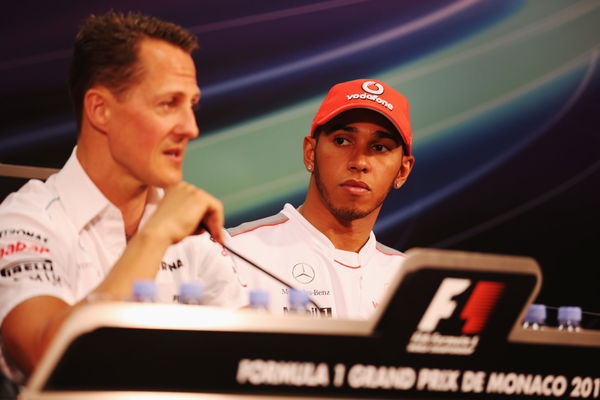 ---
---
Lewis Hamilton has entered the 2021 season looking to make history in F1. He is bidding to become the first F1 driver to win eight world titles and if he does, he will pull clear of Michael Schumacher.
ADVERTISEMENT
Article continues below this ad
Being a multiple-time world champion means you have to be good in most aspects of driving in F1 and overtaking is a vital one among that. Lewis has pulled off many overtaking maneuvers in the heat of a race.
One of his more iconic maneuvers came against Michael Schumacher himself on the narrow streets of Monaco in the 2011 Monaco Grand Prix.
ADVERTISEMENT
Article continues below this ad
The Monaco Grand Prix is notorious for its lack of overtaking opportunities. This has led to Qualifying being key, and whoever finishes on pole invariably wins the race. So, the Brit pulling off this move was a testament to his greatness and how he is one of the undisputed greats of the sport.
Lewis Hamilton passes Michael Schumacher in Monaco
The below clip shows Lewis Hamilton of McLaren pulling a great overtake on Michael Schumacher in the midst of the 2011 Monaco Grand Prix. He pulls it off quite smoothly bypassing the German at the Nouvelle Chicane, which consists of Turns 10 and 11. This is one of the optimum places of overtaking at Monaco.
After completing the move, the Brit commented on his team radio about how dirty Schumacher is in his driving. This was in reference to a prior incident between the two at Turn 1.
This overtake represented a symbolic passing of the torch from Schumacher to Hamilton.
It also foreshadowed Hamilton replacing the German at Mercedes for the 2013 season. This started the Brit's unprecedented dominance and has put him on the brink of beating Schumacher's world title record in 2021.
How are they both similar?
Both Hamilton and Schumacher are known for their ruthless streak. They have been known to bend the rules to their advantage and have succeeded while doing so. They are two of the best drivers in wet conditions, and their prowess on wet tracks has allowed them to win many an improbable race.
ADVERTISEMENT
Article continues below this ad
They were also a part of teams that dominated their respective eras. This has to be combined with the fact that these teams have also not been above using team orders to help them win races or gain track position. While these similarities are there, it's what differentiates them, which makes it even more fascinating. Schumacher was a notoriously private person while Hamilton leads a very public lifestyle. Hamilton has chosen to use his platform to promote some issues which are dear to his heart. But with all these similarities and differences, they cannot be compared as they both more or less competed in different eras.
ADVERTISEMENT
Article continues below this ad
All in all, proclaiming someone the greatest of all time is one of the subjective matters. Every person will have their own driver who fills that tag.