'He's Become a Little Bit of a Dou**e' – TJ Dillashaw Calls Out Cory Sandhagen
Published 04/02/2021, 1:48 AM EDT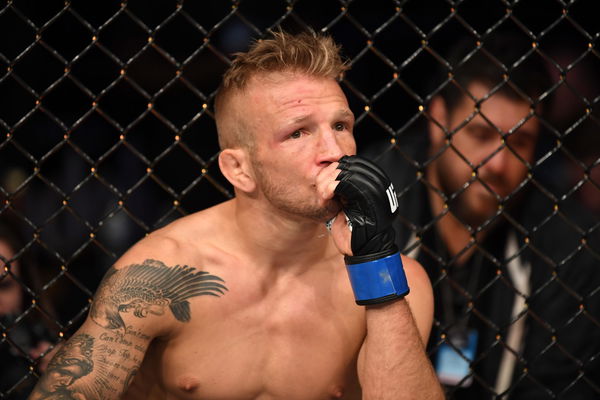 ---
---
Tyler Jeffrey Dillashaw is one of the most prolific bantamweight fighters in the UFC and is a former two-time champion of the division. TJ Dillashaw last fought in a flyweight division fight at UFC Fight Night 143 against Henry Cejudo and lost the match.
ADVERTISEMENT
Article continues below this ad
Now, after spending over two years away from the Octagon, Dillashaw is all set to return at the May 8 UFC Fight Night, where he will face his former training partner, Cory Sandhagen.
Cory 'The Sandman' is the No.2 ranked fighter in the bantamweight division and is on his way to get a title opportunity.
ADVERTISEMENT
Article continues below this ad
TJ Dillashaw's reaction to Sandhagen's recent behavior
During an interview, Dillashaw talked about how he still likes Cory Sandhagen, but he thinks he is talking too much rubbish.
"He's become a little bit of a dou**e lately, talking that s**t which he's gotta do, that's the name of the game, but I like Cory Sandhagen."
Dillashaw called out Sandhagen on his behavior, but he still believes that it's all just part of the game and he is going to get in the Octagon and win.
"I like all of his coaches, I like Elevation Fight Team, but it's the business. We're gonna get out there, we're gonna handle it, and I'm gonna come back and get my belt," he said.
However, many things that Sandhagen said clearly did not impress Dillashaw, especially the fact about him taking some sort of steroids.
"Just talking about me failing a drug test, and then something about me like taking the worst steroid you could possibly take, which I wasn't even taking, just things, just running his mouth on certain interviews," he said.
What does TJ Dillashaw expect from the fight?
ADVERTISEMENT
Article continues below this ad
Dillashaw is pretty confident in his abilities and is super excited about the fight. Since he lost to Cejudo, he has been training hard. He knows that the momentum is on Sandhagen's side and that he is being touted as the underdog in this fight.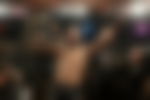 "I love this fight. He's got a lot of hype behind him. He's had two good wins, people are blowing him up right now, but it's such a good fight for me to get right back on top, right where I left off. I'll be having the belt around my waist by the end of the year," Dillashaw said.
ADVERTISEMENT
Article continues below this ad
Dillashaw and Sandhagen both know each other's strengths and weaknesses. Sandhagen has been in dominant form, meanwhile, Dillashaw is one of the greatest ever bantamweight fighters. Therefore, whatever the result of the fight may be, it's surely going to be lots of entertainment for the UFC fans.