'I'm Inspired by them'- Sean O'Malley Lauds Jake Paul and Logan Paul for Mixing Entertainment and Boxing
Published 06/08/2021, 10:48 AM EDT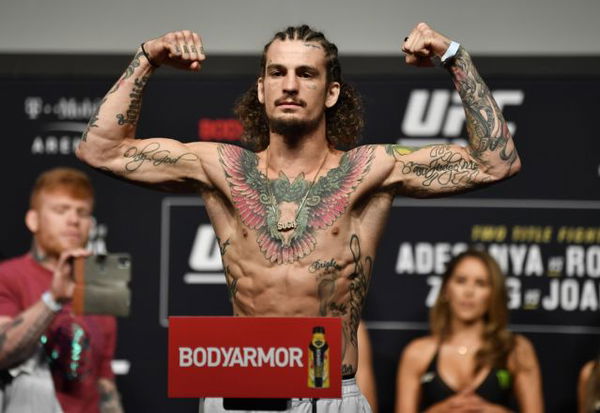 ---
---
Logan and Jake Paul have taken the world of martial arts by a storm of late. As the brothers make millions by fighting in sanctioned boxing bouts, they leave questions about the sport in their wake. Their case has acted as a sort of inspiration for UFC up and comer 'Suga' Sean O'Malley.
ADVERTISEMENT
Article continues below this ad
Talking to The Schmo in a recent interview, O'Malley talked about how the Paul brothers have blended fighting and entertainment in the perfect manner.
"I am inspired by them. You know when I got into the UFC, into fighting, I wanted to be an entertainer. That's kind of like the title that I wanted to be known for. My form of entertainment is fighting. These guys are entertainers, in their industries, and they're coming over just for entertaining in boxing and I love it. I am a huge fan of Jake, huge fan of Logan," he said.
ADVERTISEMENT
Article continues below this ad
O'Malley's form of entertainment
O'Malley's fighting style has attracted him tonnes of fans as he continues to climb up the Bantamweight rankings. A very unorthodox style of kickboxing often precedes his thunderous KOs. That kickboxing and that weird KO power are how O'Malley entertains fight fans inside the octagon. Outside the octagon, his social media is one of the best to follow if you're into combat sports. His call-outs are often hilarious.
Watch This Story: Nate Diazs Intense Training Routine Ahead Of UFC 263
O'Malley is also involved with a podcast that he regularly puts out with an associate. The tone of the podcasts is light and humorous; O'Malley often ventures out to discuss things that are not related to fighting.
ADVERTISEMENT
Article continues below this ad
O'Malley is a fighter's fighter, no doubt. But his appeal is much broader for the mainstream audience. That is probably the number one reason why the UFC machinery is backing up the young 135-er. His showmanship, coupled with his excellent performances, will always be a tremendous advantage to him throughout his UFC career.
ADVERTISEMENT
Article continues below this ad
Sean O'Malley faces Louis Smolka at 135lbs on UFC 264. Although O'Malley was expecting a well-known fighter to share the octagon with, Smolka has had his own moments. Smolka is a practitioner of Kenpo, an unorthodox Japanese martial art. His style of fighting is right up O'Malley's alley. You can expect fireworks at the Bantamweight bout at UFC 264.