Madden NFL 2022: EA Goes the Popular Way in Opting for Tom Brady and Patrick Mahomes Instead of MVP Aaron Rodgers for Cover
Published 06/18/2021, 9:22 AM EDT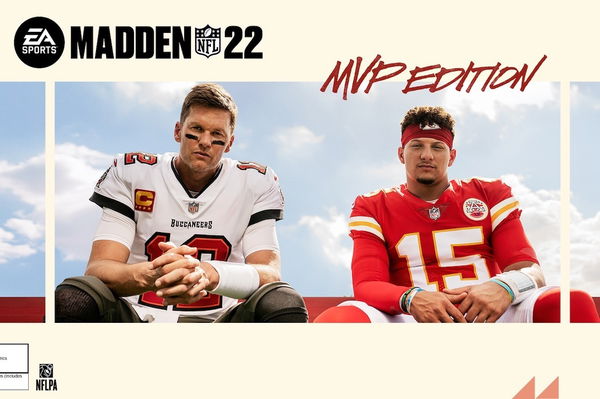 ---
---
As delighted as fans of the Madden Franchise are that Madden 22, revealed at E3 2021, is coming out, there's been some criticism regarding Aaron Rodgers not being on the game MVP edition cover. Disclosed earlier in the day (June 18, 2021), the cover of the game will feature two NFL athletes. And they are Tom Brady and Patrick Mahomes.
ADVERTISEMENT
Article continues below this ad
Both these players are renowned names that fans of the franchise are familiar with. But as this is the MVP edition of the game, the cover should have featured the "real" MVP of current times. This was at the heart of the controversy that surrounded the big reveal of the MVP edition cover.
Tom Brady and Patrick Mahomes over Aaron Rodgers dismays fans
ADVERTISEMENT
Article continues below this ad
This decision is no deal-breaker. But if the people at EA thought a decision like this would go without any attention, they were wrong. Fans and critics alike have indeed noticed that the record-setting, game-winning Aaron Rodgers is not on the MVP edition cover.
Since Madden 22 will be published and developed by EA, a huge corporation, and is one of the few games based on NFL, this will probably not cause a huge decrease in sales. But fans are not exactly in favor of putting Brady and Mahomes on the MVP edition cover.
What to expect from Madden NFL 2022
Madden 22 will improve upon its predecessors in multiple ways.
Watch This Story: Call of Duty Warzone Season 4: Everything you need to know
Utilizing next-gen tech, Madden 22 will surely better than any of the series' previous games. It will feature over 35 new scenarios that improve the storytelling aspect of the game. Madden isn't known for its superior storytelling, and players have always remarked that it feels a little lacking. With the inclusion of over 35 new scenarios, EA might just turn things around.
Madden 21 gave in-game athletes stats based on their real-world performance. This year, EA is doubling down on that feature. As these stats heavily reflect gameplay, this is an important aspect that EA wants to improve.
ADVERTISEMENT
Article continues below this ad
The game will also allow players to acquire coordinators. These coordinators can also be improved by acquiring new skills. Madden 22 arrives on Xbox series consoles, Xbox One, PS5, and the PS4 later this year.
The controversy around the Madden MVP cover has caused a stir in the community, but it's too early to tell how far this will go. But all in all, fans still seem invested in the upcoming release of the game, and their expectations haven't been deterred (yet).
ADVERTISEMENT
Article continues below this ad