"I've Hesitated to Say This, But… " – NASCAR Legend Dale Earnhardt Jr Makes a Brutally Honest F1 Admission
Published 05/11/2022, 12:16 PM EDT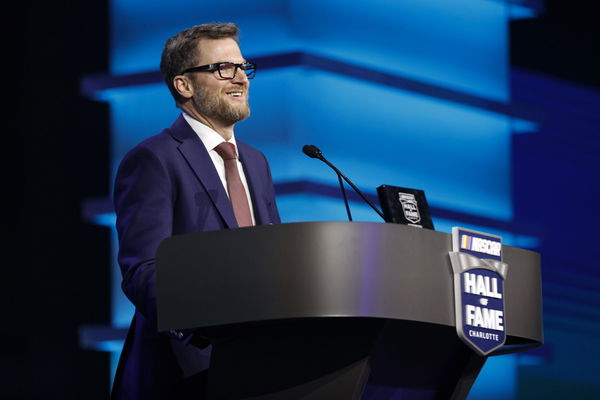 The much-anticipated Miami F1 Grand Prix has finally concluded. Amidst many positives and negatives, the Sunshine State saw the city of Miami host the first F1 race in its history. As the race got over, United States' racing icon Dale Earnhardt Jr. opened up on his thoughts about the F1 event.
ADVERTISEMENT
Article continues below this ad
It's needless to say that NASCAR and Dale Earnhardt Jr are pretty popular in the United States. As per statistics, F1 is the second most popular form of racing in the US after NASCAR. As F1 started to flex its wings in the North American country, the NASCAR icon conveyed his opinion on the recently concluded event.
ADVERTISEMENT
Article continues below this ad
When asked about Dale's takeaway from F1 and Miami Grand Prix, he conveyed, "I've hesitated to say this. I'm not incapable of enjoying F1 because I used to watch it when Mika Hakkinen and Michael Schumacher and those were going at it. I mean it was pretty awesome… back then. But for some reason, I've had a hard time finding my interests or my connection to F1."
"So, I really really really didn't pay a whole lot of attention to it either. The only thing that I was really watching was some social media stuff, Jeff Cluck was there. Several other guys and girls that you know I follow on social media, so I was seeing some of their experiences and so forth," Dale further stated.
Dale Earnhardt Jr concerned about F1's span in the US
Dale also expressed that McLaren driver Daniel Ricciardo is the only driver he looks forward to in F1 right now and wishes him to do well. The NBC NASCAR analyst also stated that he has struggled to get into the championship battle and to get inside the sport as a whole.
ADVERTISEMENT
Article continues below this ad
Talking about this, the NASCAR driver further asserted, "But I really have no idea really how the race went or what people thought of the track or the experience and what it means for F1 or the Miami Grand Prix going forward. I'm paying more attention in terms of globally like the sport getting more involved in the US, more races here and so forth."
ADVERTISEMENT
Article continues below this ad
The race turned out pretty well for Max Verstappen, who won the inaugural Miami Grand Prix over the Ferrari duo of Charles Leclerc and Carlos Sainz. Max's teammate Sergio Perez finished his race in P4. All in all, it was all about Red Bull and Ferrari throughout the race weekend.
WATCH THIS STORY: NASCAR Driver Reveals The 6 Million Obstacle In Kyle Busch Leaving Joe Gibbs Racing For Stewart Haas Racing