Fans Divided as NASCAR Makes NBA-Themed Announcement
Published 08/26/2022, 2:25 PM EDT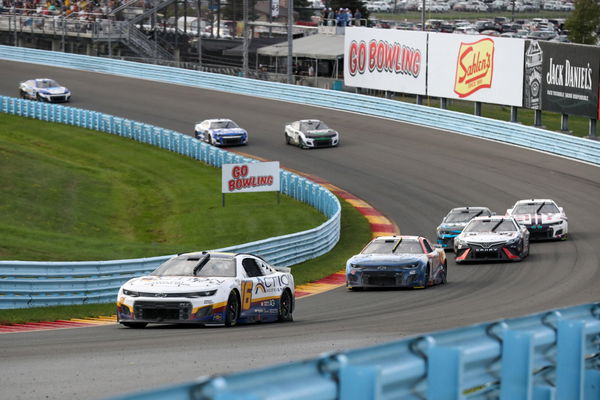 NASCAR is all set to celebrate its 75th anniversary next year and they are ready to do it with style. The American motorsport will be celebrating this mark with a throwback logo from the past and looks of the future.
The NASCAR fans are sure to appreciate the logo, as they have a lot to offer. The logo is based on NASCAR's trademark Oval tracks. This was inspired by the brand's second logo, which was introduced back in 1956.
ADVERTISEMENT
Article continues below this ad
Moreover, the diamond ring in the center of the new logo has five stripes depicting the five different logos in the sport's long history.
Interestingly, the NBA, another American sport, similarly celebrated its 75th anniversary by introducing a new logo.
NASCAR fans share a mixed feedback for the new logo
As the sport has touched its Diamond Jubilee, some fans loved the new logo, while some didn't appreciate it that much.
That's pretty damn sick actually

— Dяew‼️knower of stock car racing (@Drewthedude11) August 26, 2022
Hope they go all out next year for there 75th birthday

— Forrest Benoit incorporated 98 (@BenoitForrest) August 26, 2022
I've been a fan of the sport long enough to see the 50th & now 75th. 👴

— Jeremy Waterbury (@Lvingrmwarwagon) August 26, 2022
As we've already mentioned, not everybody was a fan of this new logo. While many condoned the idea, others pointed out the source for this. Citing the uncanny resemblance to the NBA, fans called out for the same type of logo introduction in NASCAR.
NASCAR: Hey NBA can I copy your homework
NBA: Sure just change it up a bit so nobody notices

— Fake Bristol Motor Speedway (@not_areal_track) August 26, 2022
ADVERTISEMENT
Article continues below this ad
Both NBA and NASCAR logos have a diamond on their logo. But what's the reason behind this? This is because the Diamond depicts the Diamond Jubilee, the milestone known for touching the 75th year. Although the makers of this logo can refer to NASCAR and NBA's close relationship with age and hence justifying their resemblance.
ADVERTISEMENT
Article continues below this ad
WATCH THIS STORY: There's a Lot of Pain, Crying, and Confusion…Are There Any Shortcuts?" – Danica Patrick Wonders About Healing
All in all, as the sport reaches its 75th year next season, it'll be interesting to see what new changes the sport brings into play and how will they differ as a whole from the days when NASCAR first came into play back in 1948. Till then, all fans can do is wait and watch.
Edited By: Ranvijay Singh