"He's Doing a Really Good Job": Kyle Busch Reveals the Name of the Person Responsible for Chevrolet's Success in 2023
Published 03/11/2023, 8:51 PM EST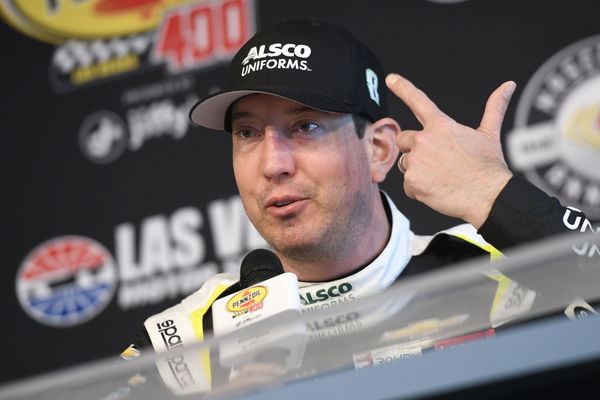 As a NASCAR Cup Series car manufacturer, wouldn't you love it if you register consecutive wins with different teams? Well, that certainly is the case with Chevrolet. With three out of three wins so far this campaign, they have been up to a flying start. For the longest time, Kyle Busch was associated with Toyota but it all changed after he joined Richard Childress Racing. He's now using a Chevrolet car and couldn't speak highly enough of them.
Rowdy drives the #8 Chevrolet Camaro ZL1 and has found instant success with it this season. It is not just him, his fellow Chevrolet users have too triumphed in the initial stages of the new campaign. Busch recently went on to reveal the key person responsible for the success.
Kyle Busch gives credit where it's due
ADVERTISEMENT
Article continues below this ad
On Friday, the former Joe Gibbs Racing driver discussed several topics at a pre-race press conference in Phoenix. One of them involved Chevrolet's eye-catching performance up to this point in the season. He couldn't help but jokingly credit himself for it. He said, "Yeah, it's all the KFB effect.. everything right here. Got them all tuned into the right pages and we're rolling."
However, he was quick to point out the real reason for Chevrolet's success. The 37-year-old said, "But no seriously, I'm going to give a huge props to Eric Warren [Chevrolet's Director of NASCAR Programs], his group, his team, and everybody at the Chevy Tech Center.
"They have been doing a really good job and a lot of stuff behind the scenes has kind of been happening. I've been in a little bit of that, especially on the truck side, with our guys at KBM [Kyle Busch Motorsports], but also some of the Cup stuff.
"Just trying to work on some of the processes and things that they do. But they've come out and done a nice job so far, so that's positive for our start to the season."
Interestingly, Busch started his career with Chevrolet in 2003 while driving for Hendrick Motorsports and is now back with them. It seems that post his JGR exit, the tw0-time Cup Series winner is getting wiser by the day.
ADVERTISEMENT
Article continues below this ad
Well-known NASCAR spotter hails Busch for change in attitude
Fans have often perceived Busch as being a notorious character. Having said that, post his JGR breakup, NASCAR spotter Brett Griffin pointed out a big change in Busch's approach. Furthermore, he suggested how the Nevada-born driver is getting wiser with time.
Speaking on the Door Bumper Clear podcast earlier this year, Griffin said, "I don't think this is crazy, but him [Busch] going back to Chevrolet helps his brand. He's back to where he started and Chevrolet has a huge following and it helps his brand to be back there. I think it gets some of the haters to get off his back.
ADVERTISEMENT
Article continues below this ad
"Maybe he is getting wiser in his old age," Griffin added. A lot of it sounds true but Busch still has a long way to go. It goes without saying that even Chevrolet would be counting a lot on him.
WATCH THIS STORY: Despite His "Cease to Exist" Comment on Busch's JGR Exit, Denny Hamlin Hands Kyle Busch a GOAT Contention: "That's Like a 160 Wins"
Edited By: Nischal Kandpal