"That's Unheard Of" – Joey Logano on the Teenage Decision Involving Joe Gibbs Racing That Sealed His Fate in NASCAR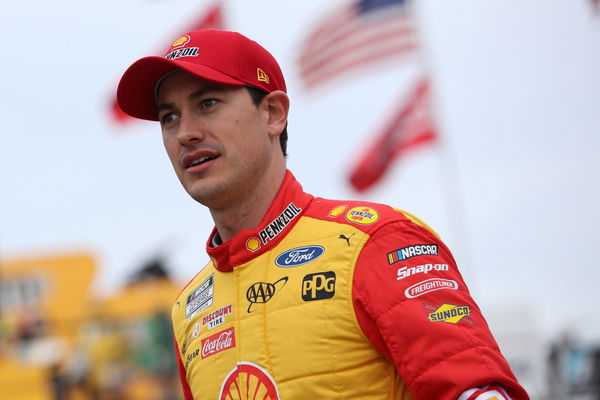 It'd be tough to find as quick a climber to the mainstream of NASCAR as Joey Logano. And obviously, he's lived up to his promise; done justice to his talent; and his hard work has paid off, and continues to. But the two-time Cup champion could've had a very different career trajectory if not for one decision.
That one decision was to pick Joe Gibbs Racing as a teenager over other big teams and their contracts, a choice that made all the difference for him.
Especially after Mark Martin touted a 15-year-old Logano to be his replacement.
ADVERTISEMENT
Article continues below this ad
Joey Logano on the "pretty big deal" from his teenage years
In a recent interview with Graham Bensinger, Logano opened up on the early years of his racing career. Talking about a question posed to Mark Martin which sealed his fate, he said, "The question was, 'If you could replace your seat with anybody, who would it be?' He said Joey Logano. I'm 15 years old. I can't, obviously, but he said my name.
"So that moment he said that, we raced the next day, and won the Pro Cup race. Which, to tell you, for a 15-year-old kid to win at that time, in that series, is pretty tough. It was a pretty big deal."
The Team Penske driver described that event in his life as "a perfect storm." 
"Before you know it, we had Ganassi, Gibbs, and Roush, we had three contracts in front of us," he recalled. "As a 15-year-old, that had a driver development program where they were gonna for our stuff and it's gonna go to just like this, 'Boom! Boom! Boom! Go Xfinity racing, Cup racing, great after that, here's your pay, here's 7 years, next 7 years of your life right here.'
WATCH THIS STORY | Denny Hamlin comes out in support of young NASCAR driver Ty Gibbs
"As a 15-year-old kid, that's unheard of, that just doesn't happen." 
"That's a snoozefest, bro": Logano speaks his mind
Leading up to the Daytona 500 on Sunday, Logano had some pretty brutal words for the much-discussed lack of practice sessions before the race, something Denny Hamlin has also been in favor of.
But for the defending Cup champion, practice before the Great American Race is pointless. "Let's be honest, the practice they had before, qualifying…that's a snoozefest, bro," he said in a recent interview with SiriusXM.
ADVERTISEMENT
Article continues below this ad
According to Logano, it's the little things that one can learn from practicing before the Daytona 500, but as for "game-changing stuff," it's a no from him: "Unless you're out there drafting, practicing in the draft, that's a little bit more fun. But then the crew chiefs don't want to do that, they don't want to risk their car."
ADVERTISEMENT
Article continues below this ad
"I'm with NASCAR on this one. To hell with it," he concluded.
Edited By: Nischal Kandpal