Allen Iverson Reveals How He Popularized Shooting Sleeves in the NBA and Also as a Fashion Statement
Published 08/26/2021, 2:30 PM EDT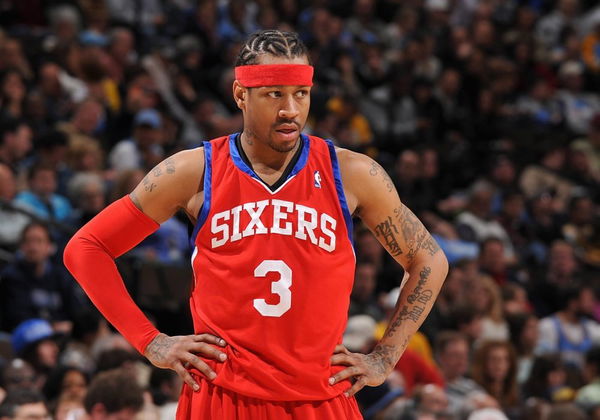 ---
---
On 21 January 2001, Allen Iverson became a trendsetter for a sports accessory called, 'shooting sleeve'. While it began as an injury preventive measure, AI soon turned it into a fashion statement.
ADVERTISEMENT
Article continues below this ad
Philadelphia 76ers 'The Answer' suffered bursitis in his right elbow during a game against the Toronto Raptors. It was 2001 postseason's first-round matchup and the then Sixers' trainer Lenny Currier found temporary relief for Iverson. According to the New Yorker, "he cut a swath of a tube bandage called compression stockinette" and wrapped it around AI's elbow.
ADVERTISEMENT
Article continues below this ad
Injury necessity turned fashion statement
Allen Iverson, the 2000-21 season MVP, dropped 51 points in the Raptors game. He eventually led the 76ers to the NBA Finals against the defending champions, Los Angeles Lakers. Even though AI's army didn't witness a win, the MVP introduced the 'shooting sleeve' into sports fashion.
While the injury was no more a concern for Iverson, he continued to wear an arm sleeve that stretched from the biceps to the wrist. That popularised over the years and the likes of Kobe Bryant and Carmelo Anthony adopted AI's style. Other notable stars who wore the shooting sleeve were Ray Allen, Russell Westbrook, and LeBron James.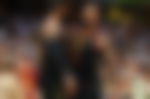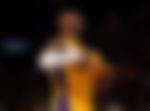 Allen Iverson says that the popularity of shooting sleeves is 'cool'
ADVERTISEMENT
Article continues below this ad
In conversation with Shannon Sharpe, Allen Iverson talked about his famous shooting sleeve's prevalence. "It started to get so popular and I love it now. I love seeing guys in different sports have them on and some guys wearing don't even be injured. One time I was watching the R. Kelly video and the man had it on in the video [laughs]…Today, when I look back on it it's so cool."
Amongst a list of trends set up by sports athletes, AI's sleeve picked up quite quickly. According to medical experts, the arm sleeve offers resistance and helps prevent injuries. However, most NBA stars are wearing it for stylistic display, similar to AI.
ADVERTISEMENT
Article continues below this ad
Iverson was awarded the Most Valuable Player for 2001. It was a notable season of his career that unfortunately ended without a ring. He averaged a staggering 31.4 points that year and also became the All-star game MVP to add to his accomplishments.
WATCH THIS STORY: From Rags to Riches – Allen Iverson and Other NBA Stars Who Turned Their Lives Around