CJ McCollum, Who Was Scared of Meeting Kobe Bryant, Reflects on Lakers Legend's Impact on Him
Published 03/24/2022, 4:30 PM EDT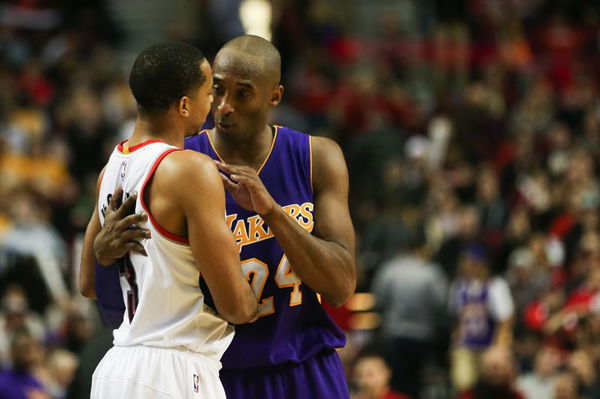 Kobe Bryant is one of the NBA's most impeccable stars. Game on the line with the clock winding down, there was only one person who you'd give the ball to. It was Kobe. For 20 years, Bryant was a part of the 'Purple and Gold' where he won 5 titles, an MVP award, and scored 81 points in a single game. Moreover, he was inducted into the Hall-Of-Fame and was included in the NBA's 75th Anniversary Team.
Apart from being a Laker and NBA great, Kobe was an inspiration to many all over the world. One person who was inspired by Bryant is New Orleans Pelicans star, CJ McCollum. Despite being scared to meet Kobe, McCollum shed light on how the Lakers' legend had an impact on him.
ADVERTISEMENT
Article continues below this ad
CJ McCollum on Kobe Bryant
In a recent episode of the 'Knuckleheads' podcast, CJ McCollum revealed how Kobe inspired him.
"I watched a lot of Kobe. Like interviews, everything," said McCollum.
"I've seen the air balls right? Like, I wanted to watch guys that fail before they succeeded. I wanted to see how they handled it and what type of work they put in to be successful," he added.
Clearly, McCollum seems to be inspired by Kobe. He closely observed Kobe's work ethic. Coming out of high school, Bryant did not have a solid rookie season. As McCollum mentioned, there was a game when Kobe shot multiple airballs in a playoff game.
WATCH THIS STORY: How Old Was Michael Jordan When He Retired? Statistics, Last Game, and More
However, the way Kobe grew and worked on his weaknesses had a strong impact on McCollum.
CJ McCollum's Breakout Season
ADVERTISEMENT
Article continues below this ad
As Portland's star, LaMarcus Aldridge, left the franchise, Damian Lillard needed a strong player to stand by his side. This was when the Trail Blazers decided to give CJ McCollum more minutes. And what a season McCollum had! Despite being underdogs, McCollum's partnership with Lillard propelled the Trail Blazers to the Eastern Conference Semifinals that season.
Clearly, McCollum had big shoes to fill. But he did in style. He had a boost in his scoring and formed a deadly partnership with Damian Lillard. Moreover, his name became widely known across the NBA. Additionally, McCollum's improvement led him to receive the Most Improved Player of the Year Award that season. Clearly, the Trail Blazers realized that they had a prolific player on their roster.
ADVERTISEMENT
Article continues below this ad
What is your favorite memory of Kobe Bryant? Do you think Pelicans can make the play-in tournament with CJ in the squad? Let us know in the comments!