Despite Reserved Nature, Kareem Abdul-Jabbar Brought "Ladies and Champagne" Only to Make Magic Johnson Happy in 1979
Published 11/27/2022, 1:10 PM EST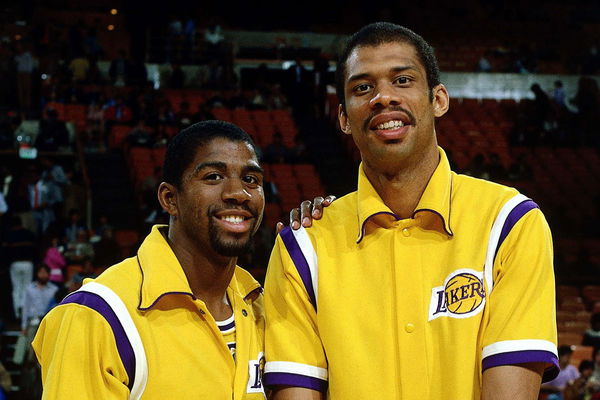 Kareem Abdul-Jabbar was a master at his game. However, he was quite shy and moody when he was off the court. Due to his reserved nature, he always had an adversarial relationship with the media. Everybody in the NBA universe knew about his personality. However, Magic Johnson, his long-time partner on the court, revealed an interesting story where he got to see the outgoing side of Abdul-Jabbar.
Magic was quite the opposite of Abdul-Jabbar. He was someone who wore his heart on his sleeve on and off the court. The three-time MVP was quite outgoing and loved to be around fans and people in general.
ADVERTISEMENT
Article continues below this ad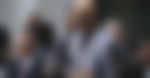 He started to do his magic on the court from the day he made his debut. From giving no-look passes to alley-oops from the mid-court, he ran the court.
Magic Johnson on seeing Abdul-Jabbar's fun side
Magic Johnson was excited to get to play with one of his favorite players, Kareem Abdul-Jabbar. But the towering center was quite reserved in nature and it took Johnson a long time to socialize with him. Even though the duo was well acquainted during Magic's rookie year, Magic still hadn't seen the fun side of Abdul-Jabbar. He then finally got to witness the outgoing side of the superstar.
Magic in his docu-series 'They call me Magic,' recalled how he saw Kareem entering the Lakers' plane wearing a cowboy hat and in a cheery mood after winning the 1980 NBA Finals against the Philadelphia 76ers. He added, Abdul-Jabbar after entering the plane said to him, "Didn't even wait for your boy! I got all the things waiting for you man, all the ladies, all the champagne."
ADVERTISEMENT
Article continues below this ad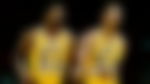 Abdul-Jabbar had one of the best Finals performances ever in the 1980 NBA Finals against All-Time great Julius Erving and the 76ers. He carried the scoring load of the team. He averaged 33.4 points, 13.6 rebounds, 4.6 blocks, and 3.2 assists per game in the Finals and helped the Lakers take a 3-2 lead. Unfortunately, he was injured in game 5 and missed the all-important game 6.
However, the rookie, Magic Johnson took over. He scored a mindboggling 42 points with 15 rebounds and 7 assists as he helped the team clinch the title. Interestingly, Magic also won the Finals MVP award.
ADVERTISEMENT
Article continues below this ad
Watch this story- The Big Threes to Watch Out for This NBA Season
What are your thoughts on the actions of Kareem Abdul-Jabbar after winning the title? Please let us know in the comments below.
Edited By: Bagavathi Eswaran