'He's Trying Too Hard': Draymond Green Reasons Out Julius Randle's Underperforming Playoff Run
Published 06/18/2021, 8:38 AM EDT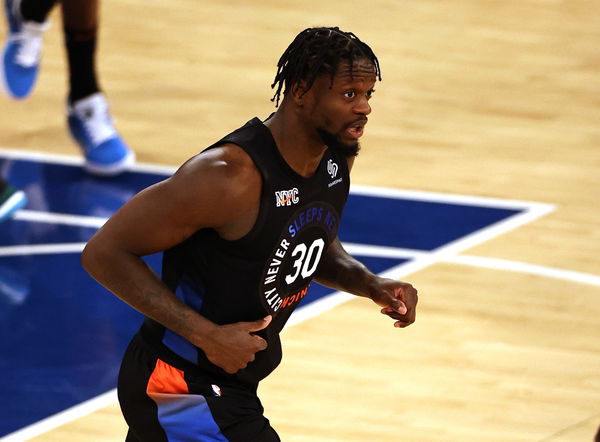 ---
---
The 2021 NBA postseason has been as thrilling as it can get. While many teams have kept advancing in the league, others like the New York Knicks have had a disappointing exit in the first round. Julius Randle and his team were up against the Atlanta Hawks, and it ended up in a 4-1 defeat for them.
ADVERTISEMENT
Article continues below this ad
The New York Knicks made it to the postseason this year for the first time since 2013. It was a long dry patch for the Knicks fans, but they finally found a reason to cheer for their team. The Knicks' tickets got sold in very few days as fans were extremely excited to watch them make a playoff appearance against the Hawks. But unfortunately, their playoff run was short-lived as they faced a defeat in the first round itself.
Several fingers were pointed at Knicks' star Julius Randle after his team's season departure. He had a contrasting and spectacular regular season but couldn't take the pressure brought about by his career's first postseason appearance. On the other end, the series against Hawks was a diminishing performance for the Most Improved Player of the Year – Julius Randle.
ADVERTISEMENT
Article continues below this ad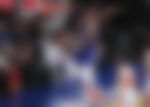 Julius Randle fell down the statistic ladder during the playoffs
Speaking about what went wrong with Randle, Warriors star Draymond Green said, "I think he's trying too hard. You get there and you want it so bad." 
Having averaged 24 points during the regular season, Randle was the 'go-to guy' for the Knicks entering the playoff season, according to Green. However, Randle averaged a low-scoring 18 points, 11.6 rebounds, and 4 assists in the 5-game series against the Hawks.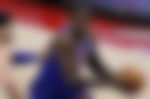 Draymond Green believes the 'adjusting' factor worked negatively for Randle
Draymond also spoke about the reasons behind Randle's underperforming series. He said:
ADVERTISEMENT
Article continues below this ad
"When that's (being the go-to player) what you do and you go into the playoffs, your first strength is gone, so whatever you do best is gone, they're locking in on that and it takes some adjusting. He hasn't had to see that. So what that then leads to is a guy who's pressing… And now you want to give it all that you got and you wanna go harder. And, most of the time when you do that, it actually works even further against you."
The Knicks' star was shooting 29.8% from the field during the playoffs, and these numbers were actually a staggering 45.6% during the regular season. That's the difference between a regular season and a postseason game.
Do you agree with Draymond Green's comments on Julius Randle's fallout?
ADVERTISEMENT
Article continues below this ad
WATCH THIS STORY: NBA Top Plays of the Night Including Draymond Green's Logo Shot