'I'm Ready For It': Giannis Antetokounmpo Shows Eagerness to Guard Kevin Durant in Upcoming Game 6
Published 06/16/2021, 6:00 AM EDT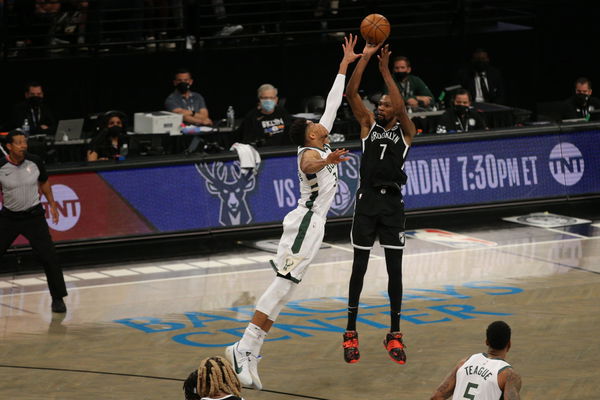 ---
---
In a tie-breaking contest between the Milwaukee Bucks and Brooklyn Nets, Kevin Durant emerged as the man of the match. His record-breaking 49 points ripped through the Bucks' equalizer and helped the Nets take over a 3-2 lead in the conference semifinals.
ADVERTISEMENT
Article continues below this ad
Kevin Durant posted outrageous numbers on the board with a 49-17-10 triple-double. Without wasting a minute in the game, the Nets star utilized the entire game time cooking against his defenders. It was one of the most phenomenal performances this postseason which took fellow players by surprise. Most of all, the Bucks faced a setback since they couldn't restrict the offensive powerhouse.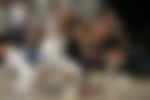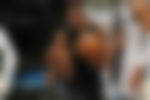 ADVERTISEMENT
Article continues below this ad
Giannis Antetokounmpo wants to guard Kevin Durant
In the 114-108 loss to the Nets, Mike Budenholzer locked PJ Tucker against Durant similar to Game 3 and 4. But this time around, the best of defenders couldn't stop Durant from outshining. So now the burning question is whether Giannis Antetokounmpo should have defended him in this crucial matchup.
The 'Greek Freak' believes he is ready to take up this job in Game 6 if given an opportunity. He said, "I want to take the challenge. Obviously, everybody is going to have a chance to guard him but I would love to go into game 6 being able to guard him. And if the coach wants me to do that, I'm ready for it."
Without a doubt, this would be a fair battle between the Bucks and the Nets' best players.
How can Bucks restrict the 'Durant force'?
ADVERTISEMENT
Article continues below this ad
The next time the two teams meet, it will be wise to retire PJ Tucker from the exhausting duty of guarding Durant. Moreover, Giannis was recently inducted into the All-defensive first team which increases expectations from the Bucks star. Durant was an unstoppable force last night and a player like Giannis will be Bucks' best option against him.
Even though Kyrie Irving is benched with an injury, good news for the Nets came in the form of James Harden's return. He wasn't his 100% on the court, but he did contribute a tad bit to Game 5.
For how long can Durant carry this team as a lone soldier? The series is yet to fold, and the Bucks will be waiting to respond with a tie. Can Kevin Durant repeat this feat to close the series in Game 6?
ADVERTISEMENT
Article continues below this ad
WATCH THIS STORY: Kevin Durant and Other Stars Who Have Had Heated Moments in the Playoffs So Far