'I'm Shooting 1,000 Percent Behind 3-Point Line': Shaquille O'Neal Recalls His One And Only 3-Pointer
Published 05/08/2021, 10:37 AM EDT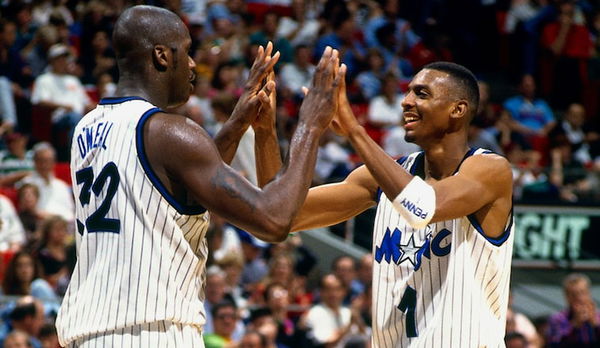 ---
---
Despite scoring over 28, 596 points in his career, Shaquille O'Neal has just one three-pointer to his name. With the clock winding down, Shaq hit a Hail Mary against the Milwaukee Bucks. Fans could not believe their eyes as they witnessed an iconic moment in the league's history. In a recent podcast, the former Orlando Magic center reflected on the legendary shot that sent shock waves around the arena.
ADVERTISEMENT
Article continues below this ad
The Big Shamrock's legacy
ADVERTISEMENT
Article continues below this ad
As a one-time MVP, two-time scoring champion, and a 15-time all-star, Shaq was the most dominant center of all time. Averaging over 23.7 points, 10.9 rebounds, and 2.3 blocks, he was the poster boy for centers in the league.
With the clock winding down to two seconds, the center received a pass from Joe Wolf, made an off balance dribble, and shot the basket for a buzzer-beater. Orlando won the game by a score of 121-91 while Shaq put up 31 points and 10 rebounds.
Orlando head coach Brian Hill mentioned how O'Neal used to take three-point shootouts with Dennis Scott.
"Dennis Scott was his best friend on the team, so they would always fool around shooting 3s," Hill said. "Or sometimes at the end of a shootaround or practice you'd have a contest just for fun making shots from halfcourt putting guys on teams and competing.
As for how Shaq performed in those? Suffice it to say it's not a shock he made only the one.
"I wouldn't call him a good 3-point shooter, let's put it that way," Hill said. "He could get the ball up there on the rim, but he wasn't going to make too many of them." 
This is how the superstar put his thoughts into context.
"You guys are jealous because I'm shooting 1,000 percent behind the 3-point line". 
How Good was O'Neal?
ADVERTISEMENT
Article continues below this ad
Drafted in 1992 by the Orlando Magic, the center gained plaudits from all over the nation with his dominant performances. Standing at around seven feet and 325 lbs, Diesel was outscoring almost every other player in the league. Besides putting up remarkable numbers, three-point shooting and free throws were not his cup of tea.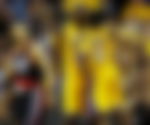 A 52.7 free throw percentage remains a puzzling stat in his career. On the other hand, he made a living inside the paint by bullying defenders using his brute strength, and by possessing a high basketball IQ. Moreover, his footwork in getting free inside the paint, mesmerized the opposition defenders who could not read his game.
ADVERTISEMENT
Article continues below this ad
NBA is home to a lot of unique talents. Shaquille O'Neal stood out from most of them because of the charismatic personality he possessed, however, his performances never took a blip.