Jalen Green Shows Respect For Cade Cunningham After Outshining Him in Their First On-Court Battle
Published 08/11/2021, 10:11 AM EDT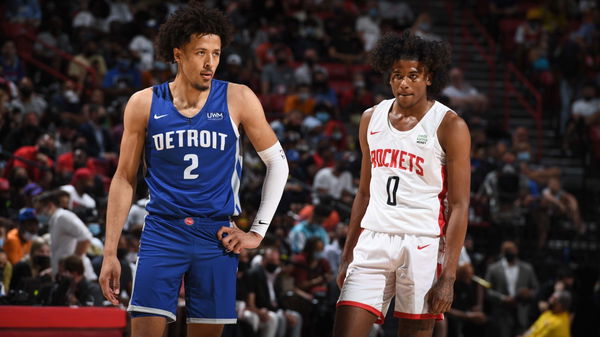 ---
---
The top two picks of the 2021 NBA draft, Cade Cunningham and Jalen Green went head-to-head in a Summer League matchup. Detroit Pistons were up against the Houston Rockets and the two stars in making experienced the first taste of their rivalry on court.
ADVERTISEMENT
Article continues below this ad
Houston Rockets defeated Detroit Pistons by 111-91, led by Jalen Green's 25 points. The second-overall draft pick added five rebounds, three assists, and one steal with 6-for-11 shooting from the field.  Moreover, Jalen was quite impressive from the free-throw line, converting 10 of his 11 attempts in the game.
On the other hand, Detroit Pistons' Cade Cunningham dropped 20 points in his loss with four rebounds, three steals, and two assists. Despite a notable performance, Cade was found on the losing end against his key competitor.
ADVERTISEMENT
Article continues below this ad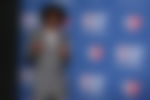 Jalen Green vs Cade Cunningham: a battle between the top rookies
Green and Cunningham are being compared for a very long time now. Even before the 2021 draft, the two players have often been weighed on the 'who's better' scale. While some predicted Jalen Green to become the first draft pick this year, eventually the results went in Cade's favor. It seems like this may shape into a long-term comparison between them considering their skillsets.
After an interesting matchup between the two leading draft picks, Jalen Green expressed respect and sportsmanship for Cade after their one-on-one battle. During the post-match interview, he mentioned –  "It was fun. He's [Cade] a good player, he battled back. I have respect for him so that's the reason we come on the court and we're going to battle that every time. It was a good game overall."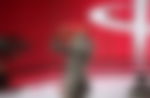 ADVERTISEMENT
Article continues below this ad
The top two draft picks are ready for the upcoming season
The G League Ignite outcome, Green outshined in his first-ever game against Cade Cunningham. Jalen had earlier scored 23 points in his debut match against the Cleveland Cavaliers as well. He is coming out strong in his early times. However, Jalen is yet to perform in the upcoming NBA season.
ADVERTISEMENT
Article continues below this ad
The two youngsters, Jalen and Cade, will be on their toes for the Rookie of the Year Award this year. Cade made it to the top draft pick, however, both the rookies have a long way to go in the league.
WATCH THIS STORY: Which Are the Five Teams That LeBron James Has Scored the Most Points Against in the NBA?