'Mike, Do You Want Me to Go Call Scottie?': When NBA All-Star Dikembe Mutombo Roasted Michael Jordan for Not Dunking on Him
Published 05/14/2021, 6:30 PM EDT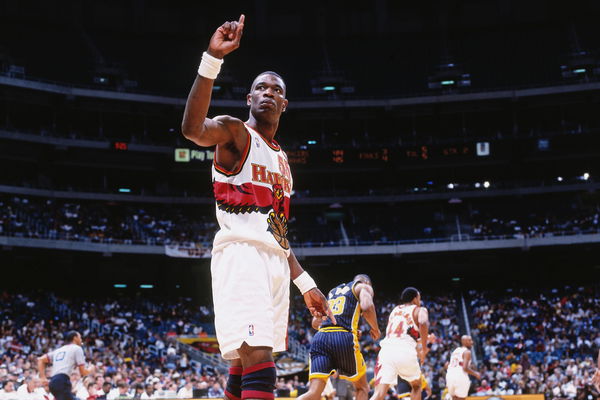 ---
---
Blocking shots is an art form in the NBA and Dikembe Mutombo was the Michelangelo of the same. Standing at around 7'2″, it was not a straightforward task for players to get one over Dikembe.
ADVERTISEMENT
Article continues below this ad
Moreover, the only player during the 90s who would ever fancy to dunk on him was Michael Jordan. It all started when Mutombo raised the point of Jordan not dunking over him.
Jordan, as we all know, took it personally. During the 1997 All-Star game, Mutombo started trash-talking with Jordan and it didn't end well.
ADVERTISEMENT
Article continues below this ad
Se cumplen 24 años de esto:

En el All-Star de 1997,Mutombo presumía orgulloso en el vestuario de que Michael Jordan nunca le había hecho un mate en la cara

Meses después, el 13 de mayo de 1997, se lo hizo

Conclusión: Nunca, NUNCA retes al más grande de la historia pic.twitter.com/0n7SRAbEUU

— Pasion Basket (@PasionBasketNBA) May 13, 2021
Michael Jordan and Dikembe Mutombo's iconic moment
"Be for real you haven't got me yet. Mike, do you want me to go call Scottie? You haven't got me in 6 years. Why don't you go ahead and say?
"He never dunked on you? Ever?" asked Ewing.
"He said I would love to get my poster, but it is not happening. Ballboy call Scottie man," said Mutombo.
Notably, the Chicago Bulls hosted the Atlanta Hawks as Jordan put a poster on Mutombo. After receiving a pass, Jordan charged down the baseline, and dunked on the Congolese as he did Mutombo's traditional finger wag afterwards.
It was a moment for the ages. Moreover, this cemented the legacy of Michael Jordan, who is arguably the greatest basketball player of all time.
Is Dikembe Mutombo the best defender of his generation?
Dikembe Mutombo was one of the best defensive players in the league in the 90s. In addition, Mutombo averaged 4 blocks per game from 1993 to 1996. Those are staggering numbers.
A menace inside the paint, Mutombo was arguably the greatest blocker of all time. Likewise, he won the defensive player of the year 4 times in his career.
In 2007, he surpassed Kareem Abdul Jabbar to move into second place for most blocks made as Hakeem Olajuwon leads the way.
Having made 3289 blocks in his career, Denver Nuggets and Atlanta Hawks retired his number 55 jersey. Some of his performances were legendary. Once he averaged 12 blocks in a game which shows the defensive acumen he possessed.
ADVERTISEMENT
Article continues below this ad
Despite being dunked on by Jordan, Mutombo was a defensive monster. In his appearance in the talk show 'The Jump', Mutombo stated how he looked upon Bill Russell and Kareem Abdul Jabbar as his mentors.
Jordan is the greatest basketball player of all time. Dunking over Mutombo is an extraordinary feat, but we can't deny the influence of Dikembe over the years.
ADVERTISEMENT
Article continues below this ad