Fans Decimate Aaron Rodgers for Michael Jordan Comparison After Playoffs Drubbing: "Ended Up Going Out Like Paul Pierce"
Published 01/23/2022, 7:30 AM EST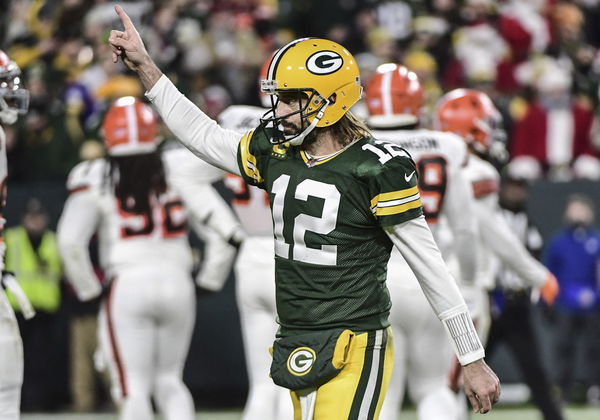 If you've seen 'The Last Dance,' then you know that the series is an exemplary story of success. Led by Michael Jordan and a star cast that included the likes of Scottie Pippen, Dennis Rodman, Ron Harper, Toni Kukoc, Steve Kerr, the series covers the story behind the championship-winning Chicago Bulls of the 1997-98 NBA season.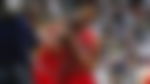 So when Aaron Rodgers and teammate Davante Adams posted a picture of Michael Jordan and Scottie Pippen on their respective Instagram stories back in July of last year, it signaled to fans that it could be the last dance for the Green Bay Packers' duo as well.
ADVERTISEMENT
Article continues below this ad
And when the time came for Aaron Rodgers to deliver, the Packers were knocked out by the San Francisco 49ers in the NFL Divisional Round. What followed were Twitter reactions decimating the NFL star.
WATCH THIS STORY: Three Current NFL Head Coaches Who Worked With Jay Gruden at Washington Football Team
Twitter reacts to Aaron Rodgers' Loss
When both Rodgers and Adams posted their respective Instagram stories, it appeared as though they compared themselves to Michael Jordan and Scottie Pippen. But with the loss came a heap of reactions that rained fire on Rodgers.
Some fans compared the duo to the famous moment in the NBA when Paul Pierce left the game in a wheelchair during Game 1 of the 2008 NBA finals. The irony, however, was that the Celtics ended up as champions in 2008 – unlike the Packers who were knocked out.
Aaron Rodgers and Davante Adams posted this thinking they would end the season going out like Michael Jordan

They ended up going out like Paul Pierce 😭 pic.twitter.com/lfu13lMzHM

— #Alex (@SadNinersFan_) January 23, 2022
Additionally, several fans and experts unleashed heavy criticism on the Packers' Quarterback, blaming him for the loss.
AARON RODGERS, 4-TIME MVP, IS NOW 7-9 IN THE PLAYOFFS SINCE HE WON THAT ONE SUPER BOWL 11 YEARS AGO. OVERHYPED, OVERRATED.

— Skip Bayless (@RealSkipBayless) January 23, 2022
Blame the special teams all you want. Rodgers had every chance to ice that game and didn't. For all the talks. The stupid hype videos. He did absolutely nothing from that first drive on.

— Go Pack Go (@rodgersfacememe) January 23, 2022
Some others were not only disappointed with the NFL star, but also with the construction of the team. They blamed the Special Teams coach Maurice Drayton for the loss due to a poor play that cost them the win.
This doesn't look like a super bowl team

— CombatCarl (@dontjoin01) January 23, 2022
Of course they did. Obviously, fire the special teams coach.

Beyond that, if they continue to refuse to fix special teams, fire them all: Lafleur, Gutenkunst, Murphy.

Seriously, every fan could tell you this might cost us a playoff game.

— Eric B – Get Vaccinated FFS (@contumacious99) January 23, 2022
Others had some more hilarious reactions to share, depicting both frustration and joy at the Packers' loss.
In Conclusion
Based on the Instagram stories alone, it's fair to say that the Packers fell short miserably. This performance, based on the Twitter reactions, can clearly be considered as non-Jordanesque on Rodgers' part, especially after he was named MVP back in 2020.
ADVERTISEMENT
Article continues below this ad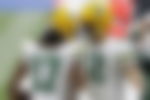 Many consider Michael Jordan as the greatest of all time. With 6 titles, 5 MVP awards, and a whole host of iconic moments, Jordan appears to be an inspiration to many, even beyond basketball itself. This was the case with Aaron Rodgers too. However, one must not forget how much of a Herculean task it is to match Jordan's legacy.
ADVERTISEMENT
Article continues below this ad
Who do you think will be crowned Superbowl champions? Let us know in the comments below.