'No Better Place Than New York': NBA Insider Brian Windhorst On Julius Randle's Contract Situation With Knicks
Published 05/07/2021, 1:30 PM EDT
By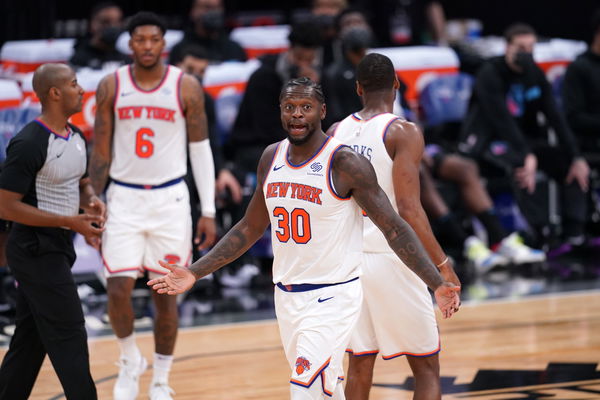 The Los Angeles Lakers drafted Julius Randle in 2014, and he has steadily improved his skill set, becoming NBA's top players. New York Knicks are preparing a contract extension for Randle. Key to their success, Randle has come of age to put the Knicks in contention for the playoffs this season. ESPN's Brian Windhorst shared his thoughts on the ongoing contract negotiations of Randle and the Knicks.
Potential contract negotiations for Julius Randle
ADVERTISEMENT
Article continues below this ad
"I want to be a part of building something from the ground up. There's no better place than New York to do it, no better organization or fan base that's hungrier … than here in New York," said Randle.
Eligible for a four-year, 106 million contract extension, the franchise laid out their intentions in signing him up after his latest exploits. Having the choice of a five-year, 201 million extension in 2022, he can size up his options this offseason.
However, the Knicks have a restricted cap space of 20 million. This will undoubtedly be a cause of concern for the organization's efforts in tying up their player. Under the guidance of Tom Thibodeau, Knicks are bringing back their glory years, and Randle is key to their success.
NBA's Player of the month
ADVERTISEMENT
Article continues below this ad
Averaging over 24.1 points, 10.2 rebounds, and 5.9 assists per game this season, the former Lakers rookie has become indispensable to the franchise. Tom Thibodeau was all in praise for the power forward, who received Player of the Month for April. He has steadily improved his playmaking skills this season with an average of 5.9 assists per game; making him a reliable playmaker.
By having Barret on the team, Randle can run the pick and roll offense to perfection. The Knicks currently have a record of 37 wins and 29 losses as they sit comfortably in fourth in the Eastern Conference.
Hiring Tom Thibodeau in July 2020 proved to be a masterstroke, as he is on the verge of ending the franchise's barren run in the playoffs. Julius Randle has the potential to be the franchise's marquee player for years to come. Time will tell, as the franchise is pinning its hopes on this talented basketball player.
ADVERTISEMENT
Article continues below this ad