One LeBron James Playoff Stat Which Proves Lakers Have Nothing to Worry About After Loss to Phoenix Suns
Published 05/24/2021, 5:30 AM EDT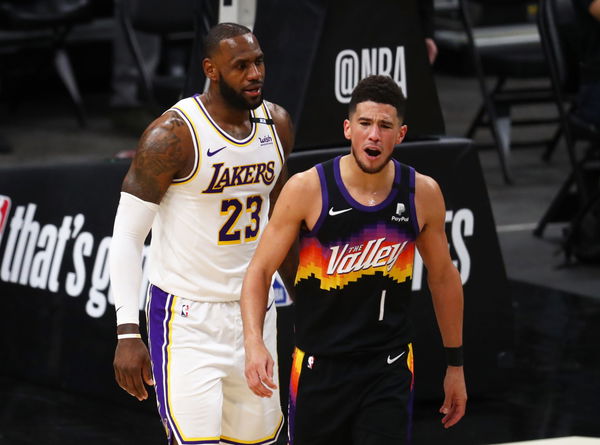 ---
---
The Phoenix Suns scored a resounding victory against the Los Angeles Lakers in the first game of their playoff series. Injuries to Chris Paul and LeBron James were the key talking points, while the match was a meaty affair. Devin Booker was the star of the show as he put up 34 points in the game. Moreover, Ayton was also in fine form as he grabbed 16 boards.
ADVERTISEMENT
Article continues below this ad
Things got heated in the fourth quarter when Alex Caruso and Payne got into a tussle which left players fighting with each other. However, the major discussion will be on whether LeBron James can put this disappointment behind, and get a victory against the Suns in the next game.
Will the Los Angeles Lakers defeat the Suns?
ADVERTISEMENT
Article continues below this ad
Coach Frank Vogel criticized Chris Paul for his aggressive approach over James and mentioned that it was unnecessary. He said, "My view was an overly aggressive box out, dangerous play where Bron was in the air and got undercut and some guys stood up for him."
"I didn't see the exact exchange in terms of what happened with the altercation, but that's why they have the video. They look at that and figure out what happened," said Vogel.
The Lakers need to control their emotions if they are to get past the rising Suns. Notably, Anthony Davis did not put up an outstanding performance while the Lakers struggled to get their shots to fall. He ended up scoring only 13 points and grabbed seven rebounds, which are not extraordinary numbers for a superstar.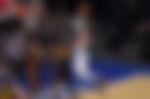 LeBron James' worrying trend in game 1s
Another interesting statistic that has come across is LeBron James' performances in the first game of a series. The 'Akron Hammer' has lost six matches in the last nine opening games of a series.
Considering their loss to the Phoenix Suns, James has his work cut out. However, the intangibles this man possesses are out of this world. While fans will be worried over this Game 1 statistic, he did the unthinkable in guiding the Cleveland Cavaliers to an NBA title after defeating the Warriors by overcoming a 3-1 deficit. This shows the steely resolve of this legend in wanting to win at all costs. He has been playing in this league for 18 years now while not backing down from challenges.
After all, he ended the Lakers title drought last year with his resounding performances.
ADVERTISEMENT
Article continues below this ad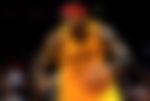 Returning to full fitness will be his agenda now as the Lakers try to get past the ever-improving Phoenix Suns. A healthy LeBron is a scary sight because of the performances he puts on the court. This series is far from over as the Phoenix Suns will taste the wrath of this iconic player in the games to come.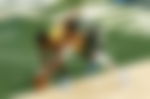 ADVERTISEMENT
Article continues below this ad