Philadelphia 76ers 2021-22 NBA Schedule: Key Fixtures Against Heat, Nets, and More
Published 09/30/2021, 10:05 AM EDT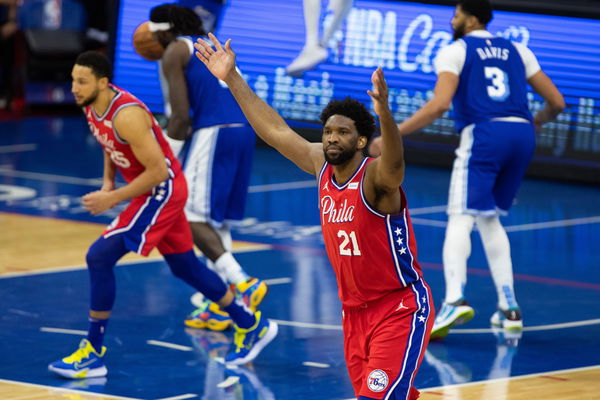 ---
---
The Philadelphia 76ers are nearing the 2021-22 NBA season. After the exit from last season's playoffs, the Sixers are in a puddle of decisions yet to be made. Their All-star Ben Simmons recently asked for a trade before the upcoming season.
ADVERTISEMENT
Article continues below this ad
Starting well in the 2020-21 regular season, the 76ers earned the east's top seed with a 49-23 record. However, they faced a seven-game series defeat to the young Atlanta Hawks during the eastern conference semifinals. That series is famous for Simmons' antics on the court that resulted in several debates on his form.
ADVERTISEMENT
Article continues below this ad
At the moment, Joel Embiid will be leading the roster, having finished second in the MVP race last season. With Simmons making a move from Philly, coach Doc Rivers will have a tough time joining the pieces for a win.
Philadelphia 76ers important fixtures
The Philadelphia 76ers will be playing their preseason's first matchup with the Toronto Raptors on Oct 5. Next in line Doc Rivers and co. will face Brooklyn Nets and Detroit Pistons. Take a look at some of the key fixtures of the 76ers during their regular season that begins on Oct 21 –
Oct 22 vs Nets: The Brooklyn Nets had acquired a Big 3 that wasn't seen much last season bound by injuries. However, Kevin Durant, Kyrie Irving and James Harden will be coming back in power. Nets are off to a starry show, looking like one of the best rosters in the east. Can the Sixers find their way through Nets? We're yet to find out.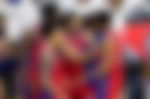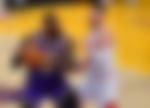 Oct 30 vs Hawks: Having locked horns in the 2021 playoffs, Sixers vs Hawks will be a crucial match for Philly fans. Atlanta Hawks and their young star Trae Young defeated the 76ers 4-3 in the conference semifinals last season. Sixers will be preparing for a comeback against the Hawks with past intentions in place.
Jan 15 vs Heat: In their last game of the 2020-21 regular season, the Sixers lost to Miami Heat by 12 points. This time, Heat has acquired Kyle Lowry from the Raptors. With Jimmy Butler and PJ Tucker on the roster list, Heat will be a competitive matchup for the Sixers. It's going to get interesting when the two eastern teams will clash on Jan 15.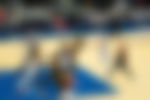 The Sixers: Full regular-season schedule
NBA league has officially announced the Philadelphia 76ers' full schedule for the 2021-22 NBA season.
| | | | |
| --- | --- | --- | --- |
| Oct 20 8:00 PM | Pelicans | Jan 21 7:00 PM | Clippers |
| Oct 22 7:30 PM | Nets | Jan 23 7:00 PM | Spurs |
| Oct 24 7:00 PM | Thunder | Jan 24 8:00 PM | Rockets |
| Oct 26 7:30 PM | Knicks | Jan 27 7:30 PM | Lakers |
| Oct 28 7:00 PM | Pistons | Jan 29 7:30 PM | Kings |
| Oct 30 7:30 PM | Hawks | Jan 31 7:00 PM | Grizzlies |
| Nov 01 7:00 PM | Blazers | Feb 02 7:00 PM | Wizards |
| Nov 03 7:00 PM | Bulls | Feb 04 8:30 PM | Mavericks |
| Nov 04 7:00 PM | Pistons | Feb 06 3:30 PM | Bulls |
| Nov 06 8:00 PM | Bulls | Feb 08 7:00 PM | Suns |
| Nov 08 7:00 PM | Knicks | Feb 11 7:00 PM | Thunder |
| Nov 09 7:30 PM | Bucks | Feb 12 7:30 PM | Cavaliers |
| Nov 11 7:00 PM | Raptors | Feb 15 7:30 PM | Celtics |
| Nov 13 7:00 PM | Pacers | Feb 17 8:30 PM | Bucks |
| Nov 16 10:00 PM | Jazz | Feb 25 8:00 PM | Timberwolves |
| Nov 18 9:00 PM | Nuggets | Feb 27 1:00 PM | Knicks |
| Nov 20 10:00 PM | Blazers | Mar 02 7:30 PM | Knicks |
| Nov 22 10:00 PM | Kings | Mar 04 7:00 PM | Cavaliers |
| Nov 24 10:00 PM | Warriors | Mar 05 8:00 PM | Heat |
| Nov 27 6:00 PM | Timberwolves | Mar 07 7:00 PM | Bulls |
| Nov 29 7:00 PM | Magic | Mar 10 7:30 PM | Nets |
| Dec 01 7:30 PM | Celtics | Mar 13 6:00 PM | Magic |
| Dec 03 7:30 PM | Hawks | Mar 14 8:00 PM | Nuggets |
| Dec 06 7:00 PM | Hornets | Mar 16 7:00 PM | Cavaliers |
| Dec 08 7:00 PM | Hornets | Mar 18 7:00 PM | Mavericks |
| Dec 09 7:00 PM | Jazz | Mar 20 8:30 PM | Raptors |
| Dec 11 8:30 PM | Warriors | Mar 21 7:00 PM | Heat |
| Dec 13 8:00 PM | Grizzlies | Mar 23 10:00 PM | Lakers |
| Dec 15 7:00 PM | Heat | Mar 25 10:30 PM | Clippers |
| Dec 16 7:30 PM | Nets | Mar 27 6:00 PM | Suns |
| Dec 19 8:00 PM | Pelicans | Mar 29 7:00 PM | Bucks |
| Dec 20 7:30 PM | Celtics | Mar 31 7:00 PM | Pistons |
| Dec 23 7:00 PM | Hawks | Apr 02 12:30 PM | Hornets |
| Dec 26 6:00 PM | Wizards | Apr 03 6:00 PM | Cavaliers |
| Dec 28 7:30 PM | Raptors | Apr 05 7:00 PM | Pacers |
| Dec 30 7:00 PM | Nets | Apr 07 7:30 PM | Raptors |
| Jan 03 7:00 PM | Rockets | TBA | Pacers |
| Jan 05 7:00 PM | Magic | TBA | Pistons |
| Jan 07 7:00 PM | Spurs | | |
| Jan 12 7:00 PM | Hornets | | |
| Jan 14 7:30 PM | Celtics | | |
| Jan 15 8:00 PM | Heat | | |
| Jan 17 2:00 PM | Wizards | | |
| Jan 19 7:00 PM | Magic | | |
ADVERTISEMENT
Article continues below this ad
WATCH THE STORY: Kobe Bryant's Best Lakers Teammates Featuring Shaquille O'Neal and Pau Gasol
Watch This Story
ADVERTISEMENT
Article continues below this ad